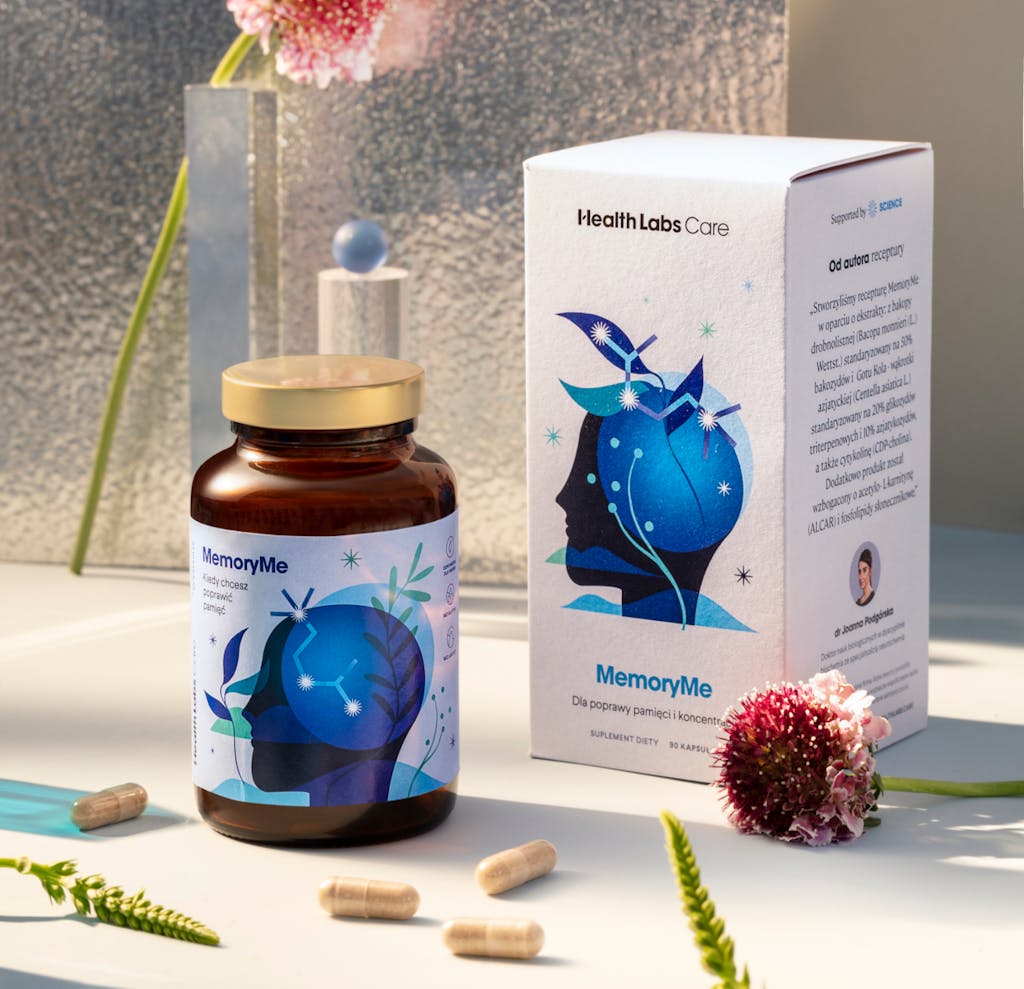 What makes MemoryMe special?
adaptogens reducing "brain fog"
Bacopa monnieri and Gotu Kola help maintain proper psychological function and memory, thus reducing "brain fog" — a state of impaired perception and concentration.
nootropics that support memory
The content of nootropics positively affects brain function and neurotransmitter balance, and demonstrates neuroprotective action. Since they easily cross the blood-brain barrier, they can work in the central nervous system.
pure composition confirmed by studies
The MemoryMe dietary supplement contains no unnecessary fillers, preservatives, or colorants. Its purity and freedom from contaminations and heavy metals have been confirmed in tests conducted by an independent, accredited laboratory: J.S. Hamilton Poland.
standardized plant extracts
Plant extracts in the MemoryMe dietary supplement are standardized, so you can be sure each portion of the supplement contains at least the indicated amount of active ingredients. Their DER (Drug Extract Ratio) is also provided.
original recipe
Many experienced nutrition experts have contributed to the development of the MemoryMe dietary supplement. Their passion and expertise helped create dietary supplements guaranteed to meet the expectations of even the most demanding consumers, both men and women.
What you need to know
Recommended intake
Adults: 3 capsules a day
— in the first part of the day
Expert opinion
Neuroplasticity is the crucial factor in memory formation
When creating the MemoryMe dietary supplement, we combined ingredients that foster neuroplasticity, i.e. the process of creating new neural connections in the brain. These connections constitute the foundation of our memory.
Bacopa monnieri is a plant which has been successfully used to support memory processes and to improve alertness and brain function in general. But it is not only "brain-friendly" — it also reduces blood pressure, protects the cardiovascular system, and helps tackle chronic stress. Gotu Kola, also known as Centella asiatica, is an adaptogenic herb, which has been used to improve cognitive performance and protect nerve cells.
Joanna Podgórska, Ph.D.
She obtained her biology doctorate in biochemistry (specialty — neurochemistry) at the Polish Academy of Sciences, Institute of Experimental Biology
joanpodgorska
When is MemoryMe right for you?
Your job requires you to constantly learn new things.

You are in a creative profession. 

You want to get rid of brain fog, improve perception, and focus on your work or school-related tasks.

You study a lot, you have an exam session coming up, and you want to study faster and more efficiently.

You have noticed the first symptoms of age-related memory impairment and want to include neuroprotective ingredients in your diet.
Expert opinion
Stimulate the creation of new neural connections
Neurogenesis is a process that allows the nervous system to work more efficiently, e.g. to find information in your head more quickly, which translates into increased intellectual capacity and better memory. The MemoryMe dietary supplement has been designed to help stimulate the creation of new neurons and neural connections, which is why it is perfect for anyone who wants to support their brain and improve their memory. 
Michał Kot
Nutritional consultant; biochemistry, endocrinology, and neurochemistry geek
michal.kot
Find out the ingredients in MemoryMe dietary supplement
Table of active ingredients
| MemoryMe | In 3 capsules |
| --- | --- |
| Gotu kola extract, providing | 400 mg |
| triterpene glycosides | 80 mg |
| asiaticosides | 40 mg |
| Water hyssop extract | 500 mg |
| providing bacosides | 250 mg |
| Citicoline (CDP-choline) | 400 mg |
| Sunflower phospholipids, of which | 200 mg |
| phosphatidylcholine | 100 mg |
| phosphatidylserine | 40 mg |
| phosphatidylethanolamine | 20 mg |
| phosphatidylinositol | 16 mg |
| Acetyl-L-carnitine (ALCAR) | 255 mg |
Frequently asked questions
Has the MemoryMe dietary supplement been tested?
What is brain fog and what are its symptoms?
What is brain neuroplasticity?
Can I take the MemoryMe dietary supplement several times a day or should I take all 3 capsules at once?
Can I take the MemoryMe dietary supplement only in the morning?
How long can I take the MemoryMe dietary supplement?
If I stop taking the MemoryMe supplement, will my memory and cognitive performance deteriorate?
Can I take MemoryMe with other Health Labs Care products?
Can pregnant and breastfeeding women take MemoryMe?