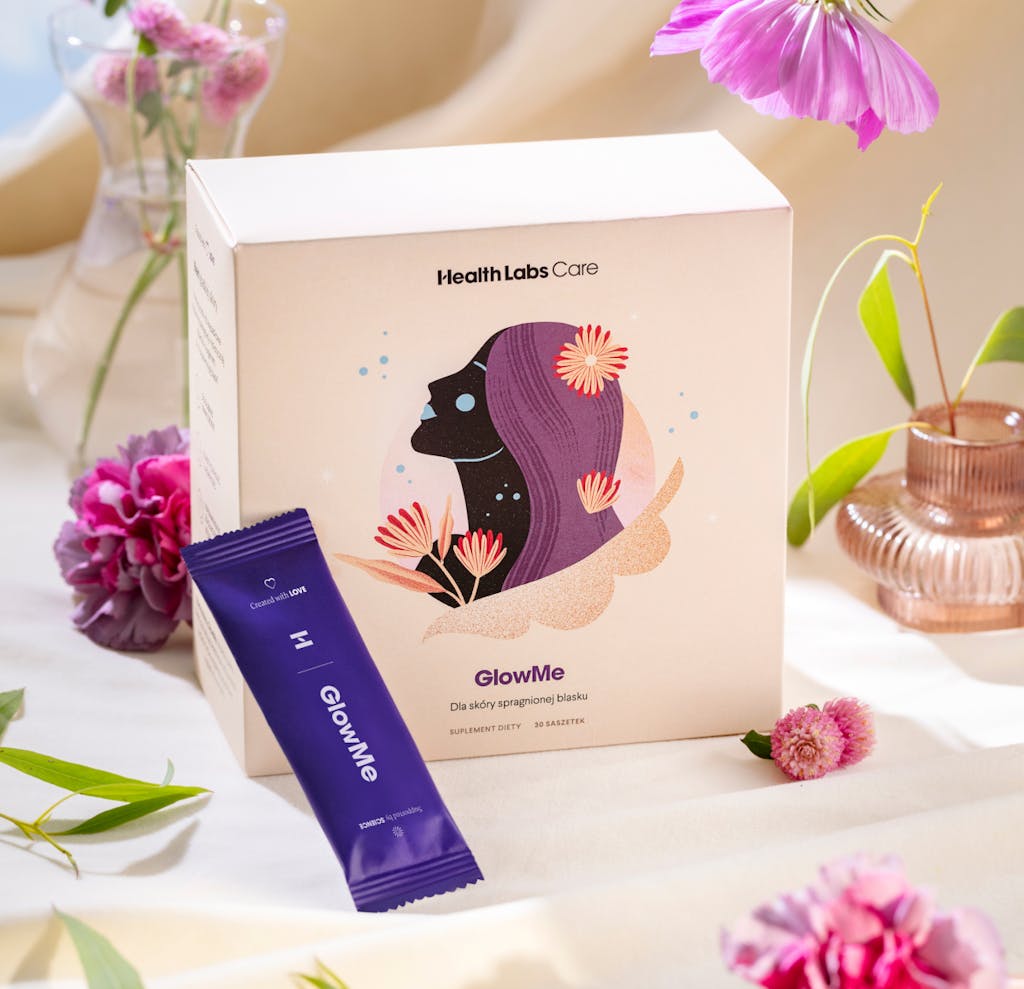 What makes the GlowMe dietary supplement special?
standardized extracts
The GlowMe dietary supplement contains grape seed extract standardized to 95% of oligomeric proanthocyanidins (OPC) DER 15:1, which means that 15 g of raw material was used to produce 1 g of the extract.
low molecular weight collagen
One sachet of GlowMe contains as much as 5000 mg of low molecular weight (~ 3000 Da), which is highly absorbable.
convenient sachets
This concentrated concoction of active ingredients and vitamins comes in convenient sachets, which means you can always have it with you: in the office, on the go, on vacation, and anywhere else.
pure composition confirmed by studies
The GlowMe dietary supplement contains no unnecessary fillers, preservatives, or colorants. Its purity and freedom from contaminations have been confirmed in tests conducted by an independent, accredited laboratory: J.S. Hamilton Poland.
original recipe
Many experienced nutrition experts have contributed to the development of the GlowMe dietary supplement. Their passion and expertise helped create dietary supplements guaranteed to meet the expectations of even the most demanding consumers, both men and women.
What you need to know
Recommended intake
Adults: Once a day
— dissolve one sachet (11 g) in 3/4 cup of lukewarm water and drink once a day.
Expert opinion
Holistic approach to solving skin problems
When we worked on the recipe of the GlowMe dietary supplement, we wanted to combine ingredients that can work together in an optimum way and help skin stay in a good condition. We enriched the collagen-based product with OPC, or oligomeric proanthocyanidins, which have demonstrated anti-aging properties in scientific studies on human fibroblasts — they regulate the expression of genes responsible for skin aging processes. We also added vitamins A and E, which the skin needs, and which have been proven effective in scientific studies.
Michał Kot
Nutritional consultant; biochemistry, endocrinology, and neurochemistry geek
michal.kot
Find out the ingredients in GlowMe dietary supplement
Table of active ingredients
| GlowMe | In 1 sachet | RI* |
| --- | --- | --- |
| Collagen from cod fish | 5 000 mg | |
| Vitamin C | 500 mg | 625% |
| Sodium hyaluronate | 50 mg | |
| Grape seed extract | 100 mg | |
| providing oligomeric proanthocyanidins (OPC) | 95 mg | |
| Vitamin A | 400 µg | 50% |
| Vitamin E, of which | 20 mg | 167% |
| tocotrienol | 16 mg | |
| tocopherol | 4 mg | |
Frequently asked questions
Has the GlowMe dietary supplement been tested?
Can Health Labs Care supplements be taken while undergoing laser hair removal treatments?
When should I take collagen supplements — before, after, or with a meal?
Can I take the GlowMe dietary supplement with hot meals?
What does the GlowMe dietary supplement taste like?
Does GlowMe contain any calories?
Can I take BeautyMe and GlowMe at the same time?
Can pregnant and breastfeeding women take the GlowMe dietary supplement?