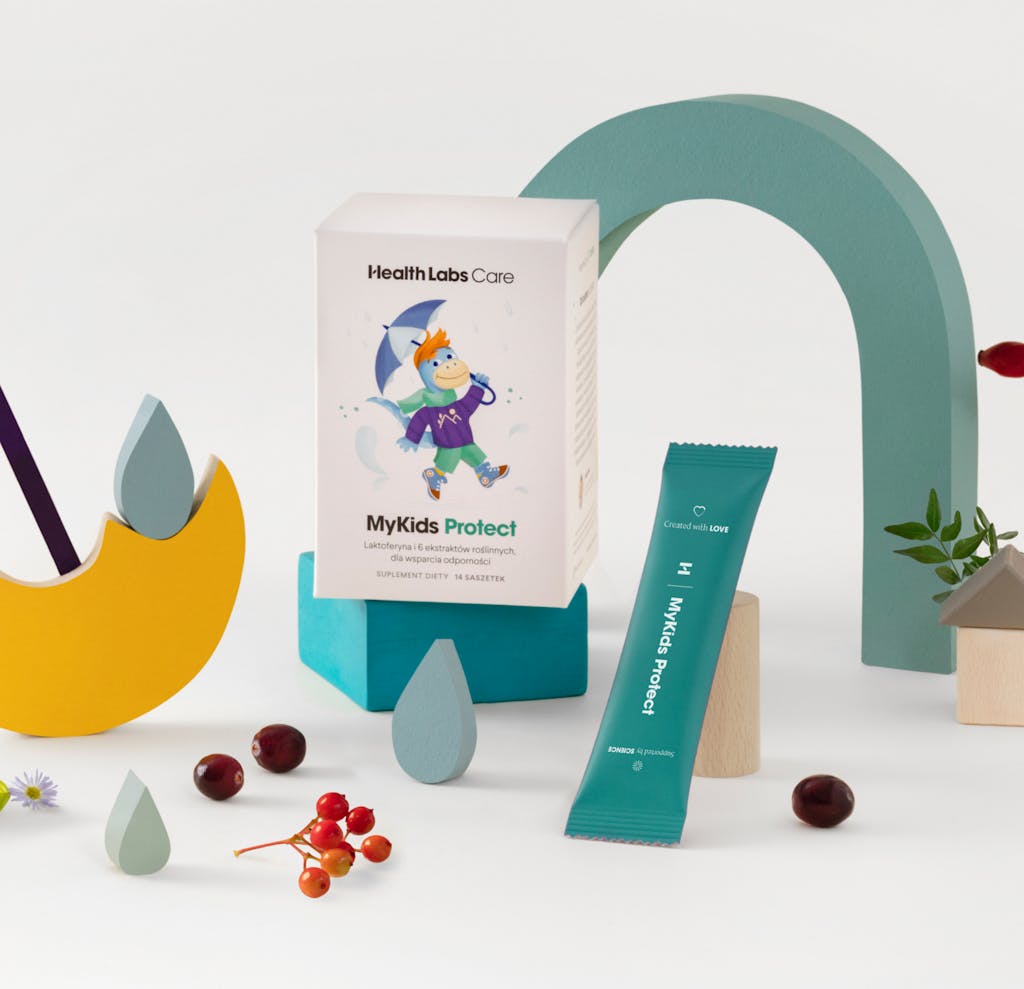 Dietary supplement
MyKids Protect
When your child's immunity needs a boost
stimulates the immune system in children
promotes a healthy microbiota
speeds up recovery from infection
supports nervous system function in children
provides essential antioxidants and polyphenols
For children over 3
14 sachets  — 14 days' supply
Free shipping on orders above 300 PLN
Ships in 24h
What makes the MyKids Protect dietary supplement special?
unique combination of ingredients
The MyKids Protect dietary supplement is a combination of lactoferrin, choline, and zinc, which boost immunity; as well as extracts from elderberry, black chokeberry, cranberry, rose hip, acerola cherry, and camu camu, which are all sources of vitamin C.
standardized extracts
Fruit extracts used in MyKids Protect have a standardized active ingredient content. Their DER (Drug Extract Ratio) is also provided. All of this is evidence of the top quality of ingredients used in the MyKids Protect dietary supplement.
no sugar
The MyKids Protect dietary supplement contains erythritol and steviol glycosides, which give it a pleasant, slightly sweet taste, but unlike sugar, are safe for children's teeth and do not cause caries.
convenient sachets
The MyKids Protect comes in convenient sachets, which you can always carry with you. The water‑soluble form is easy to prepare and serve, and makes the ingredients more absorbable.
pure composition confirmed by studies
The MyKids Protect dietary supplement contains no unnecessary fillers, preservatives, or colorants. Its purity and freedom from contaminations have been confirmed in tests conducted by an independent, accredited laboratory: J.S. Hamilton Poland.
original recipe
Many experienced nutrition experts have contributed to the development of the MyKids Protect dietary supplement. Their passion and expertise helped create dietary supplements guaranteed to meet the expectations of the most demanding consumers: men, women, and even children.
What you need to know
Recommended intake
1 sachet (4 g) a day
— dissolve in 75–100 mL of water and drink immediately
Do not exceed the recommended daily intake. Balanced diet and a healthy lifestyle are important for the functioning of the human body. Dietary supplements cannot be used as a substitute (replacement) for a varied diet.
There are no miracles. Only science.
At present, the PubMed database contains over 1,207,923 scientific study results confirming the effectiveness of ingredients used in Health Labs Care dietary supplements. Here are some of them:
Elderberry extract boosts immunity

It has been found that supplementation with elderberry significantly reduces upper respiratory tract problems.

Lactoferrin supports the immune system

LF is a good immunomodulatory agent that acts on both innate and adaptive immune responses.

Black chokeberry fruit extract demonstrates antioxidative properties

Findings suggest that black chokeberry extracts can be considered a good source of natural antioxidants and functional food ingredients.

Zinc helps combat infections

Clinical trial data support the value of zinc in reducing the duration and severity of symptoms of the common cold when administered within 24 hours of the onset of common cold symptoms.
When should I consider giving my child MyKids Protect?
When their immune system could use a boost.

When they suffer from recurring colds, tonsillitis, upper respiratory tract and/or urinary tract infections.

When they suffer from atopic dermatitis and allergies (unless it is an allergy to any ingredient of the product).

When they study hard and need to ward off the resulting fatigue and exhaustion.

When they exercise a lot.

When their iron absorption is insufficient (the supplement contains ingredients that promote iron absorption from food).

When their diet is poor in fruit and vegetables, which are sources of vitamins and antioxidants.
Find out the ingredients in My Kids Protect dietary supplement
Table of active ingredients
| MyKids Protect | Zalecana dzienna porcja (1 saszetka): | RWS |
| --- | --- | --- |
| Ekstrakt z aronii | 150 mg | |
| Laktoferyna | 100 mg | |
| Cholina | 25 mg | |
| Ekstrakt z żurawiny | 50 mg | |
| Ekstrakt z bzu czarnego | 100 mg | |
| Ekstrakt z aceroli | 100 mg | |
| w tym witamina C | 25 mg | 31,25% |
| Ekstrakt z Camu Camu | 100 mg | |
| w tym witamina C | 5 mg | 6,25% |
| Ekstrakt z dzikiej róży | 40 mg | |
| w tym witamina C | 30 mg | 37,5% |
| Cynk | 5 mg | 50% |
Frequently asked questions
Has the MyKids Protect dietary supplement been tested?
What does the MyKids Protect dietary supplement taste like?
What are the differences between the MyKids Protect and ProtectMe Recovery+ dietary supplements?
Since the MyKids Protect dietary supplement contains fruit extracts, can it replace fruit and vegetables altogether?
At what age can children start taking the MyKids Protect dietary supplement?