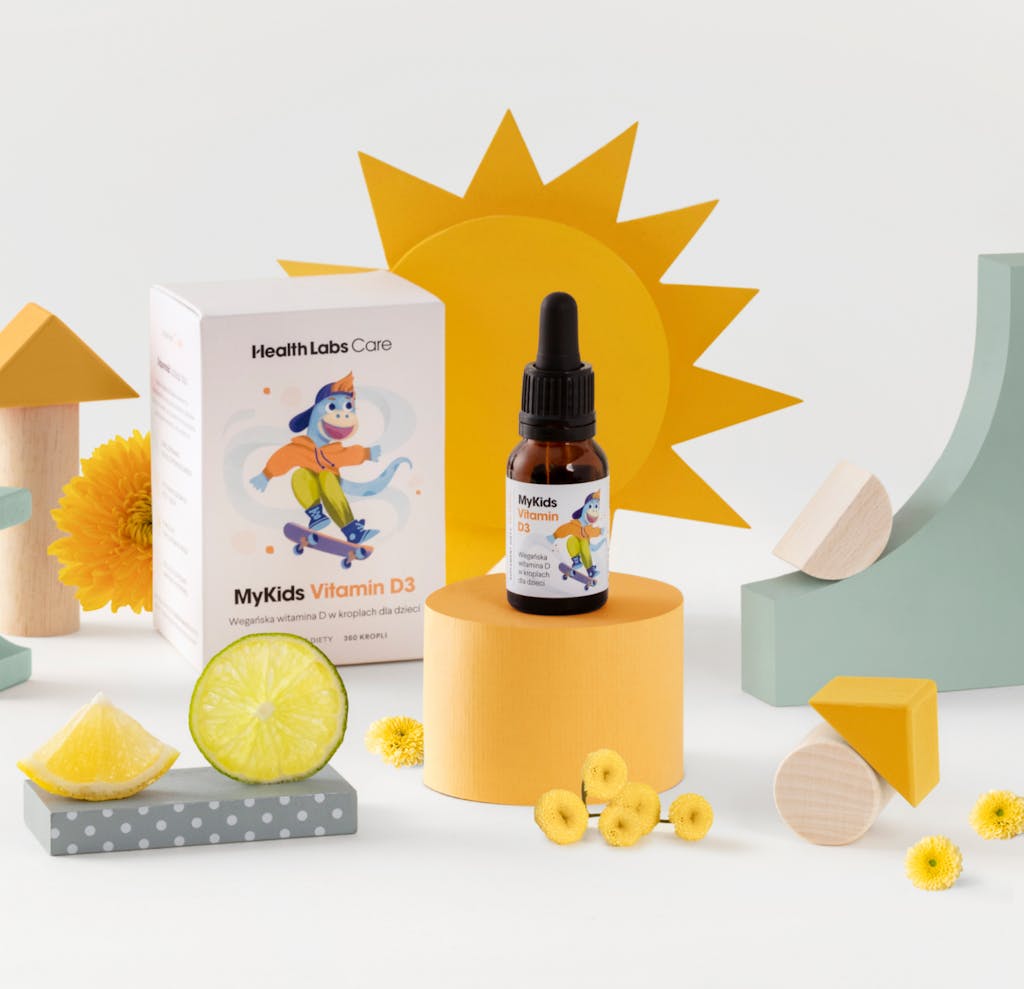 MyKids Vitamin D3
Vegan vitamin D drops for children
200 IU of vitamin D3 in one drop
liquid formula with MCT oil
360 drops in one bottle
from the first day of life
From the first day of life
360 drops/180 portions, 9.7 mL  — 180 days' supply
Free shipping on orders above 300 PLN
Ships in 24h
What makes MyKids Vitamin D3 special?
200 IU of vitamin D in one drop
One drop of the MyKids Vitamin D3 dietary supplement provides 200 IU of vitamin D3, which means you can easily adapt the dose to the age and needs of your child. Vitamin D promotes the development of a healthy immune system.
from the first day of life
Whether you feed your baby with breast milk or formula, you can complement their diet with the MyKids Vitamin D3 dietary supplement starting from day one. For newborns and babies under 6 months, the recommended daily intake of vitamin D3 is 400–600 IU.
convenient form
The MyKids Vitamin D3 dietary supplement comes in liquid form, in a small glass dropper bottle that enables you to precisely measure the number of drops.
vegan formula
Vitamin D3 contained in the MyKids Vitamin D3 dietary supplement is obtained from algae. It is a perfect alternative to vitamin D from animal sources, such as lanolin.
durability and stability
Vitamin D3 is an organic chemical compound from the vitamin D group. It is fat-soluble, so we suspended it in MCT oil from coconut.
pure composition confirmed by studies
The MyKids Vitamin D3 dietary supplement contains no unnecessary fillers, preservatives, colorants, heavy metals, or contaminations. This is confirmed by tests conducted in an independent, accredited laboratory: J.S. Hamilton Poland.
What you need to know
Recommended intake
Newborns and infants
— 2 drops
Babies from 1 to 10 years old
— 3 to 5 drops
Teenagers from 11 to 18 years old
— 4 to 10 drops
Expert opinion
Vitamin D — a healthy immune system and strong bones for your child
Vitamin D3 is recommended even for newborns. It supports the body's defense mechanisms and is essential for the proper functioning of the child's immune system. It is also crucial for the healthy development of bones, teeth, and muscles, as well as the regulation of calcium and phosphorus balance. This is why it is so important to ensure the right supply of this vitamin in your child's daily diet.
One drop of the MyKids Vitamin D3 dietary supplement contains 200 IU of vitamin D3, so you can precisely measure the amount your child needs. The recommended daily intake varies depending on the child's age.
Paulina Ihnatowicz
A nutritionist specializing in clinical and sports nutrition; the author of the book "Masz to we krwi" [It's in your blood] with 10 years of experience, more than 1000 patients, and hundreds of trainings and presentations
paulina.ihnat
There are no miracles. Only science.
At present, the PubMed database contains over 88,565 scientific study results demonstrating the effectiveness of vitamin D. Here are some of them:
Find out the ingredients in MyKids Vitamin D3 dietary supplement
Table of active ingredients
| MyKids Vitamin D3 | Wielkość porcji | RWS* |
| --- | --- | --- |
| 1 kropla | 5 µg (200 IU**) | 100% |
| 2 krople | 10 µg (400 IU**) | 200% |
| 3 krople | 15 µg (600 IU**) | 300% |
| 4 krople | 20 µg (800 IU**) | 400% |
| 5 kropli | 25 µg (1000 IU**) | 500% |
| 6 kropli | 30 µg (1200 IU**) | 600% |
| 7 kropli | 35 µg (1400 IU**) | 700% |
| 8 kropli | 40 µg (1600 IU**) | 800% |
| 9 kropli | 45 µg (1800 IU**) | 900% |
| 10 kropli | 50 µg (2000 IU**) | 1000% |
Frequently asked questions
Does my child have to get any tests before they start taking the MyKids Vitamin D3 dietary supplement?
What is the 25-hydroxy vitamin D blood test recommended when taking MyKids Vitamin D3?
Does demand for vitamin D change with age?
Should children also take vitamin D in summer and spring?
If my child misses their daily dose of the MyKids Vitamin dietary supplement, should they receive a double dose the next day?