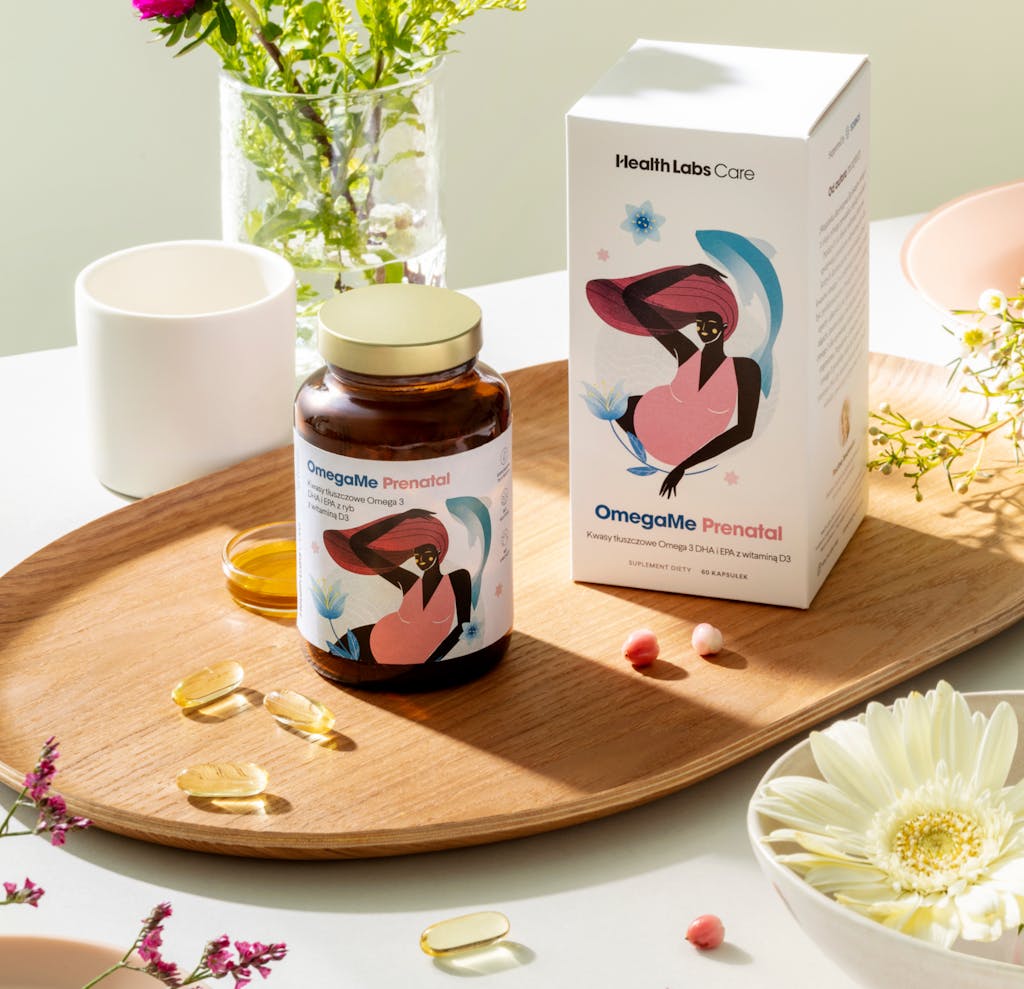 OmegaMe Prenatal
DHA and EPA omega-3 fatty acids from fish and vitamin D3
One capsule contains:
700 mg of DHA and 100 mg of EPA 
2000 IU of vitamin D
60 capsules  — 60 days' supply
Free shipping on orders above 300 PLN
Ships in 24h
What makes the OmegaMe Prenatal dietary supplement special?
very high DHA content
The OmegaMe Prenatal dietary supplement contains as much as 700 mg of DHA and 100 mg of EPA from fish in a single capsule.
2000 IU of vitamin D in one capsule
Just one capsule of the OmegaMe Prenatal a day is enough to provide 2000 IU of vitamin D3.
convenient form
The convenient softgel capsule is easy to swallow and does not have the characteristic fish oil flavor.
pure composition confirmed by studies
The OmegaMe Prenatal dietary supplement contains no unnecessary fillers, preservatives, or colorants. Its purity and freedom from contaminations and heavy metals have been confirmed in tests conducted by an independent, accredited laboratory: J.S. Hamilton Poland.
What you need to know
Recommended intake
Expert opinion
EPA and DHA omega-3 fatty acids for mums and pregnant women
The OmegaMe Prenatal dietary supplement contains as much as 700 mg of DHA. It is an important component of brain cells, responsible for the healthy development of this organ. When consumed by the mother, it positively affects the development of the brain both in the fetus and in breast-fed children.
During the pregnancy, this ingredient reaches the fetus through the placenta. Later, it also passes into the mother's milk. Therefore, the demand for the DHA omega-3 fatty acid in pregnant and breastfeeding women is increased.
Paulina Ihnatowicz
A nutritionist specializing in clinical and sports nutrition; the author of the book "Masz to we krwi" [It's in your blood] with 10 years of experience, more than 1000 patients, and hundreds of trainings and presentations
paulina.ihnat
Find out the ingredients in OmegaMe Prenatal dietary supplement
Table of active ingredients
| OmegaMe Prenatal | In 1 capsule | RI* IU** |
| --- | --- | --- |
| Fish oil, providing | 1000 mg | |
| DHA | 700 mg | |
| EPA | 100 mg | |
| Vitamin D | 50 µg | 1000% (2000 IU**) |
There are no miracles. Only science.
EPA is essential during pregnancy

EPA is an essential ingredient during pregnancy: it reduces blood pressure in high-risk pregnancies and minimizes the risk of delayed development in infants.

Source: Beneficial effects of docosahexaenoic acid on cognition in age-related cognitive decline

DHA supports brain function

Maternal intake of very-long-chain n-3 PUFAs during pregnancy and lactation may be favorable for later mental development of children

Source: Maternal supplementation with very-long-chain n-3 fatty acids during pregnancy and lactation augments children's IQ at 4 years of age https://pubmed.ncbi.nlm.nih.gov/12509593/

Omega-3 fatty acids promote fertility and fetal development

Thus, omega-3 fatty acids may provide an effective and practical avenue for delaying ovarian aging and improving oocyte quality at advanced maternal age.

Source: Prolonging the female reproductive lifespan and improving egg quality with dietary omega-3 fatty acids
Improve your supplementation regimen
Meet LittleMe 2nd and 3rd Trimester
Benefits the mum and the baby
ingredients crucial for the health of a developing baby, recommended by the Polish Society of Gynecologists
also contains: vitamin B12, coenzyme Q10, and choline, which help alleviate any pregnancy-related complaints and support fetal development
Frequently asked questions
Has the OmegaMe Prenatal dietary supplement been tested?
How was the ratio of DHA and EPA acids in the OmegaMe Prenatal calculated?
Why should pregnant and breastfeeding women take omega-3 acids?
What other Health Labs Care products can be taken with OmegaMe Prenatal?
Are there any contraindications to taking OmegaMe Prenatal?
Can I take the OmegaMe dietary supplement if I also take fish oil?
After taking OmegaMe Prenatal, I experience "fish burps" — can I do anything about that?
When should I take the OmegaMe Prenatal dietary supplement — before, after, or with a meal?
What is the 25-hydroxy vitamin D blood test recommended when taking OmegaMe Prenatal?