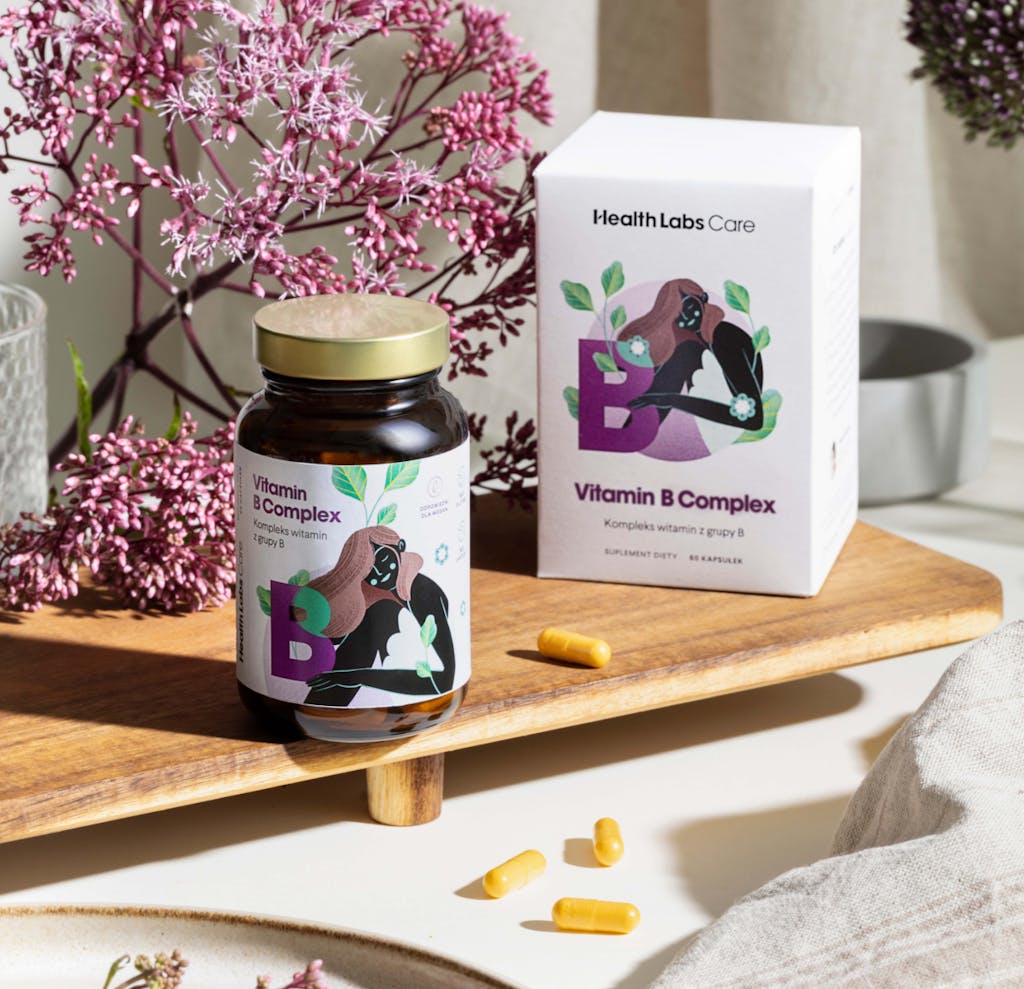 Dietary supplement
Vitamin B Complex
All the B vitamins you need
support your nervous and immune systems
combat fatigue
boost your well‑being
Suitable for vegans
60 capsules  — 60 days' supply
Free shipping on orders above 300 PLN
Ships in 24h
What you need to know
Recommended intake
1 capsule a day
— in the first part of the day
Do not exceed the recommended daily intake. Balanced diet and a healthy lifestyle are important for the functioning of the human body. Dietary supplements cannot be used as a substitute (replacement) for a varied diet.
What makes Vitamin B Complex special?
all the B vitamins you need
The Vitamin B Complex dietary supplement contains all essential B vitamins, as well as choline and inositol, which are also commonly referred to as B vitamins (B4 and B8).
high absorbability
Owing to the biologically active and highly absorbable form of ingredients, Vitamin B Complex complements your diet with vital ingredients, in particular vitamin B12 and vitamin C.
pure composition confirmed by studies
The Vitamin B Complex dietary supplement contains no unnecessary fillers, preservatives, or colorants. Its purity and freedom from contaminations and heavy metals have been confirmed in tests conducted by an independent, accredited laboratory: J.S. Hamilton Poland.
original recipe
Many experienced nutrition experts have contributed to the development of Vitamin B Complex. Their passion and expertise helped create dietary supplements guaranteed to meet the expectations of even the most demanding consumers, both men and women.
Find out the ingredients in Vitamin B Complex dietary supplement
Table of active ingredients
| Vitamin B complex | In 1 capsule | RI* |
| --- | --- | --- |
| Vitamin C | 40 mg | 50% |
| Thiamine | 60 mg | 5455% |
| Riboflavin | 40 mg | 2857% |
| Niacin | 10 mg | 62,5% |
| Vitamin B6 (pyridoxal 5′-phosphate) | 10 mg | 714% |
| Folic acid (calcium L‑methylfolate) | 400 µg | 200% |
| Vitamin B12 | 100 µg | 4000% |
| Biotin | 600 µg | 1200% |
| Pantothenic acid | 105 mg | 1750% |
| providing pantethine | 5 mg | |
| Choline | 20 mg | |
| Myo-inositol | 50 mg | |
| Black pepper extract | 0.42 mg | |
| providing piperine | 0.4 mg | |
When should you choose Vitamin B Complex?
When you experience a lot of stress on a daily basis; you lead a busy lifestyle; you do not get enough sleep; and you struggle to regenerate.

Your memory and concentration could use a boost, so you can perform your everyday tasks with the right level of focus and alertness.

You are physically active and exercise a lot.

You are on a vegetarian, vegan, or slimming diet.
Frequently asked questions
Has the Vitamin B Complex dietary supplement been tested?
I am vegan. Is supplementation with Vitamin B Complex enough or do I also need to take an additional B12 supplement?
Why should Vitamin B Complex be taken in the first part of the day?
When should I take Vitamin B Complex — before, after or during a meal?
Ever since I started taking Vitamin B Complex, my urine has become a more intense yellow. Should I be concerned?
What Health Labs Care products can be taken with the Vitamin B Complex dietary supplement?
Can pregnant and breastfeeding women take the Vitamin B Complex dietary supplement?
Are any unpleasant side effects to be expected when taking the Vitamin B Complex?