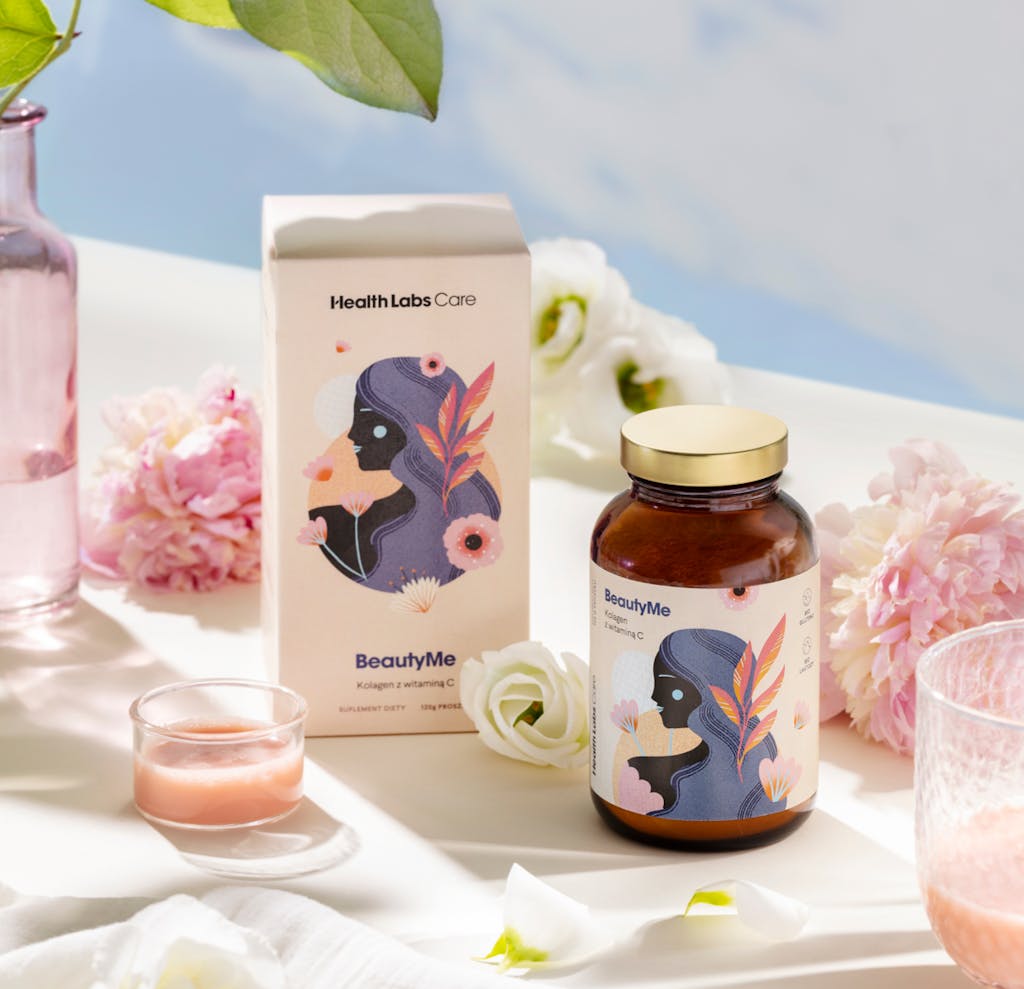 BeautyMe
Collagen and vitamin C
promotes adequate collagen production for healthy skin
protects cells against oxidative stress
Free shipping on orders above 300 PLN
Ships in 24h
What makes BeautyMe special?
simple composition
The BeautyMe dietary supplement is a combination of two active ingredients: fish collagen (hydrolysate) and rose hip extract, which is a source of natural vitamin C, essential for proper collagen absorption.
no sweeteners
The BeautyMe dietary supplement has a neutral flavor and a citrus aroma, but it does not contain any sugar or artificial sweeteners.
pure composition
The BeautyMe dietary supplement contains no unnecessary fillers, preservatives, or colorants. Its purity and freedom from contaminations have been confirmed in tests conducted by an independent, accredited laboratory: J.S. Hamilton Poland.
low molecular weight collagen
The BeautyMe dietary supplement contains low molecular weight (~ 3000 Da), highly absorbable BDF Naturlagen® C3000 collagen.
convenient powder form
The powdered form of the BeautyMe dietary supplement makes it easy to adjust the dose to your body's needs. Add your collagen dose to a fruit cocktail or a smoothie.
What you need to know
Recommended intake
Once a day
— dissolve two teaspoons of the powder (4 g) in 3/4 cup of lukewarm water and drink once a day.
When is the BeautyMe dietary supplement right for you?
You have turned 26 (this is when collagen synthesis starts slowing down) and you want to support your body in the production of natural collagen in your skin.

Zauważyłaś u siebie objawy przedwczesnego starzenia się (zmarszczki w dużych ilościach, utrata sprężystości i elastyczności skóry)

Chcesz zredukować cellulit

Przeszłaś niedawno uraz, kontuzję (d
Find out the ingredients in BeautyMe dietary supplement
Table of active ingredients
| BeautyMe | In 4g | RI* |
| --- | --- | --- |
| BDF Naturlagen® C3000 fish collagen | 3360 mg | |
| Rose hip extract | 120 mg | |
| providing vitamin C | 80 mg | 100% |
Frequently asked questions
What has changed in the composition of the BeautyMe dietary supplement?
Why does the size of collagen molecules matter?
Has the BeautyMe dietary supplement been tested?
When should I take the BeautyMe dietary supplement — before, after, or with a meal?
Can I take the BeautyMe dietary supplement with hot meals?
What other Health Labs Care products can be used with the BeautyMe supplements?
Does the BeautyMe dietary supplement have any flavor?
Does BeautyMe contain any calories?
Can pregnant and breastfeeding women use Health Labs Care supplements?