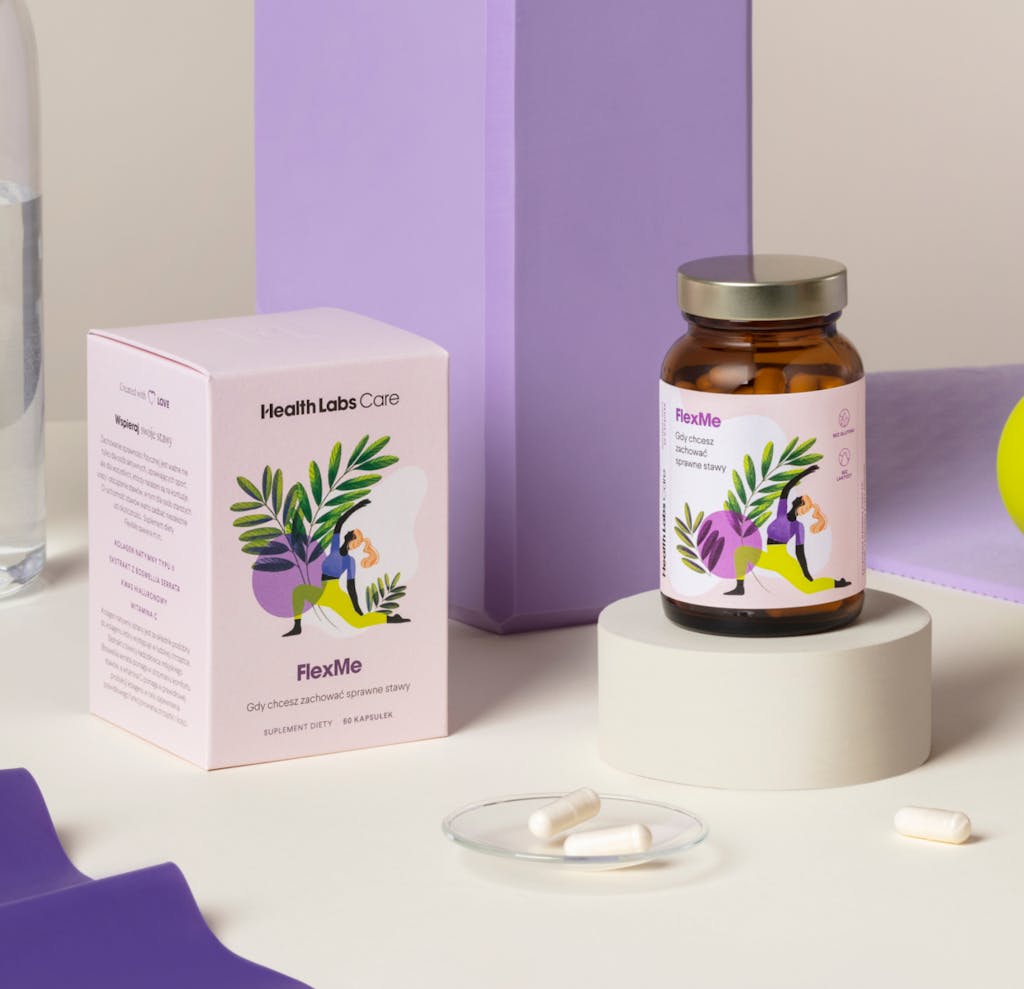 Dietary supplement
FlexMe
Support your joints
improves flexibility of the entire osteoarticular system
promotes protective processes in bone and cartilage junctures
helps relieve pain
helps prevent joint discomfort
169,00 PLN
Lowest price in the last 30 days: 169,00 PLN
60 capsules — 30 days' supply
Free shipping on orders above 300 PLN
Ships in 24h
What makes the FlexMe dietary supplement special?
a unique combination of ingredients
The FlexMe dietary supplement provides ingredients that strengthen your bones and joints in multiple ways: T2NDC® native collagen, hyaluronic acid, Casperome® Boswellia serrata extract, OptiMSM®, and vitamin C to support collagen production and help ensure healthy function of bones and cartilage.
T2NDC® native collagen
The FlexMe dietary supplement contains as much as 120 mg of T2NDC® native collagen from standardized chicken cartilage in a daily serving. Cutting-edge cold extraction technology preserves the natural structure of collagen molecules for high activity and better absorption of mineral components. The natively formed collagen in an optimized serving has a beneficial impact on joints and cartilage.
Boswellia serrata as Casperome®
In our FlexMe dietary supplement, we included Casperome®, a Boswellia serrata (Roxb. Ex Colebr.) gum resin extract standardized to 25% of triterpenic acids and 10% of boswellic acids. This formula demonstrates anti-inflammatory and analgesic action, improves the absorption of active ingredients, and helps maintain articular comfort.
synergistic action
Research shows that a combination of Boswellia serrata extract and MSM (organic sulfur) helps joints and bones regenerate, reduces inflammation, and is more effective than the commonly used glucosamine sulfate.
convenient capsules
The FlexMe dietary supplement comes in capsules, offering a safe way to provide active ingredients in their biologically active forms.
What you need to know
Recommended intake
Adults: 1 capsule
— 2 times a day (best taken after a meal)
Do not exceed the recommended daily intake. Balanced diet and a healthy lifestyle are important for the functioning of the human body. Dietary supplements cannot be used as a substitute (replacement) for a varied diet.
When is the FlexMe dietary supplement right for you?
You lead an active or athletic lifestyle, and your joints are at a high risk of injury

You are recovering from injury

You have a sedentary lifestyle, which may contribute to articular problems

Your joints are overused and overloaded from physical labor

You are older and find your joints are not as flexible as they used to be
Find out the ingredients in FlexMe dietary supplement
There are no miracles. Only science.
Frequently asked questions
Has the FlexMe dietary supplement been tested?
Can pregnant and breastfeeding women take the FlexMe dietary supplement?
Can children and teenagers take the FlexMe dietary supplement?
Will FlexMe strengthen my joints?
Can I take the FlexMe dietary supplement if I do not do any sports?
Will my joint pain return when I stop taking FlexMe?
How is the collagen in BeautyMe/GlowMe/ProtectMe Recovery+ different from that found in FlexMe?
Why does the FlexMe dietary supplement contain 120 mg of native collagen, while GlowMe contains as much as 5000 mg?