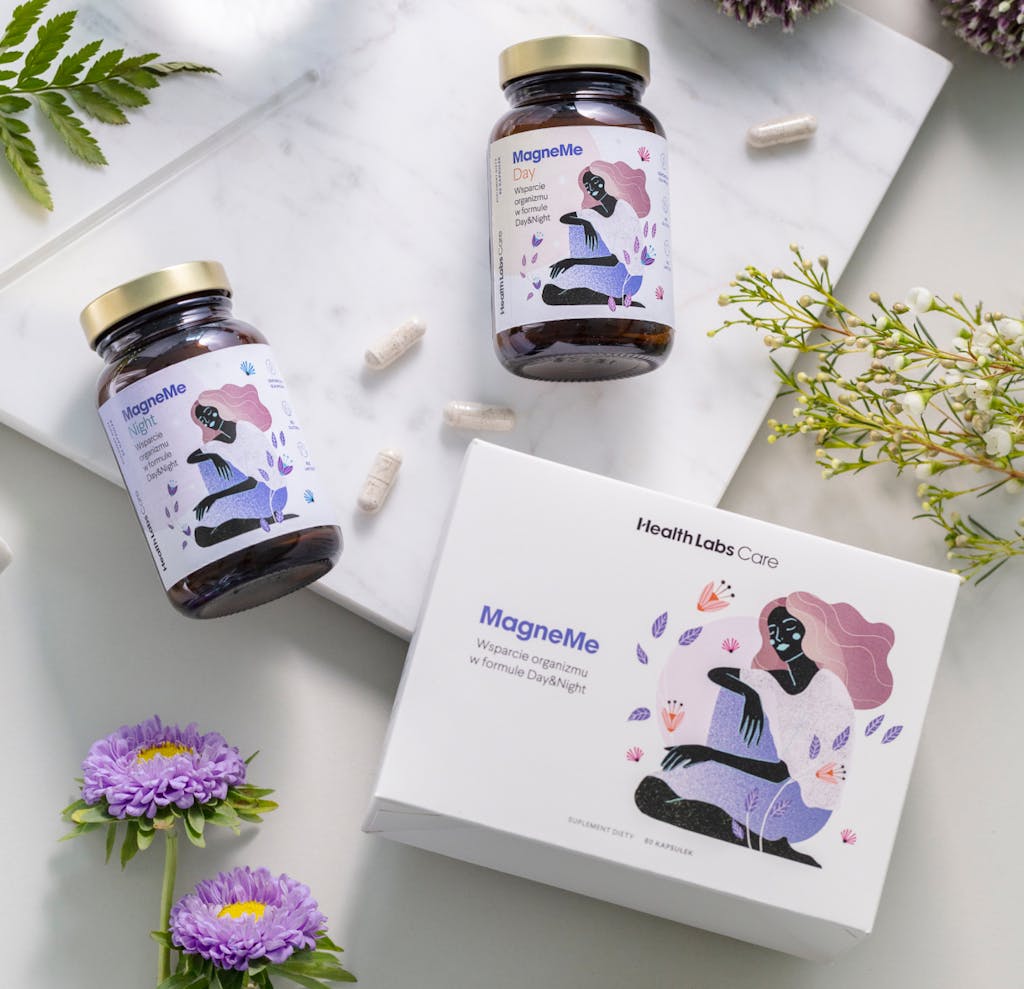 MagneMe
Magnesium and active vitamin B6
combat fatigue and exhaustion
improve your nervous and immune system function
support your muscles
prevent electrolyte imbalance
keep your bones healthy
Suitable for vegans
120 capsules — 30 days' supply
Free shipping on orders above 300 PLN
Ships in 24h
What makes the MagneMe dietary supplement special?
combination of four forms of magnesium
The MagneMe dietary supplement contains magnesium in as many as four different forms: citrate, malate, acetyl taurate, and diglycinate.
day&night formula
The MagneMe dietary supplement comes in a day and night formula, which ensures targeted action of magnesium compounds in the body.
high magnesium ion content
MagneMe ingredients are provided in their biologically active forms, with as much as 395.99 mg of magnesium ions in a daily dose.
active form of vitamin B6
The MagneMe Night dietary supplement is enriched with vitamin B6 (pyridoxal 5'-phosphate) — its coenzymated (active) form increases magnesium assimilability in the body.
pure composition confirmed by studies
The IntiMe dietary supplement contains no unnecessary fillers, preservatives, colorants, or contaminations. This is confirmed by tests conducted in an independent, accredited laboratory: J.S. Hamilton Poland.
What you need to know
Recommended intake
Adults: 2 capsules a day
— in the morning
Adults: 2 capsules a day
— in the evening
When is MagneMe right for you?
despite a healthy diet, you still suffer from magnesium deficiency;

you feel overstimulated and want to take care of your nervous system;

you study or work hard, and you want to combat fatigue and exhaustion;

your energy is low, you feel down, and you want to recover your psychological well-being;

you lead a busy lifestyle, or you exercise a lot and want to support your muscles;

you live in a rush and want to combat the negative effects of stress.
Find out the ingredients in MagneMe dietary supplement
Table of active ingredients
| MagneMe Day | In 2 capsules | RI* |
| --- | --- | --- |
| Magnesium (magnesium salts of citric acid) | 250 mg | 66.7% |
| MagneMe Night | In 2 capsules | RI* |
| --- | --- | --- |
| Magnesium (ATA Mg® magnesium acetyl taurine) | 32.5 mg | 8.7% |
| Magnesium (magnesium diglycinate) | 77.85 mg | 20.8% |
| Magnesium (magnesium malate) | 35.65 mg | 9.5% |
| Vitamin B6 (pyridoxal 5′-phosphate) | 5 mg | 357% |
Frequently asked questions
Can I take MagneMe with other Health Labs Care products?
Why does the MagneMe dietary supplement contain vitamin B6?
Can pregnant and breastfeeding women take the MagneMe dietary supplement?
Does coffee flush out magnesium from the body?
Can I overdose on magnesium?
Can I take the product with calcium?