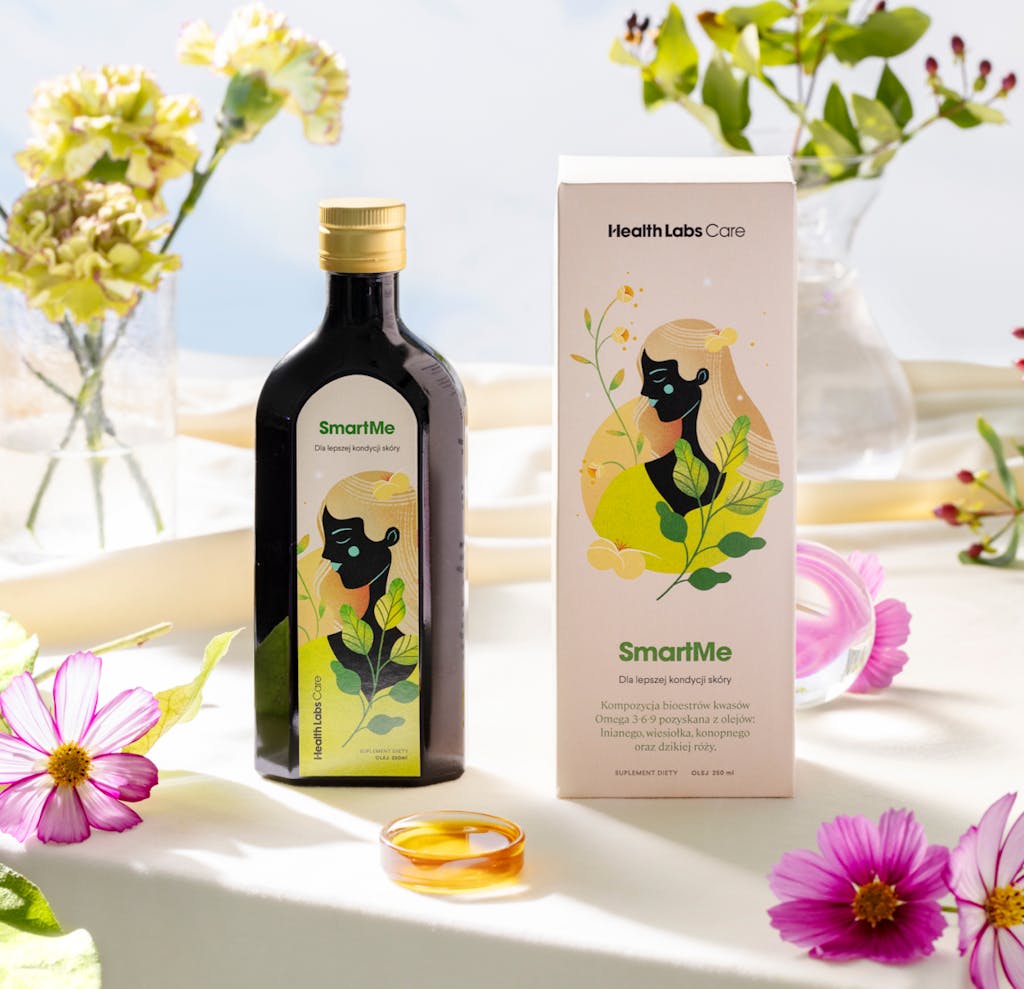 What makes the SmartMe dietary supplement special?
high absorbability
Owing to the biologically active and highly absorbable form of ingredients, the SmartMe dietary supplement complements your diet with omega-3 fatty acids (ALA), as well as vitamins A, E, and D.
EVNol SupraBio™ certificate
The Smart Me dietary supplement is made using the EVNol SupraBio™ system which helps ensure higher absorption of vitamin E (tocotrienols) from orally administered supplements.
V-Label quality seal
The SmartMe dietary supplement has been positively reviewed for a V­Label license — the only independent certification for vegetarian and vegan products in the European market.
pure composition confirmed by studies
The SmartMe dietary supplement contains no unnecessary fillers, preservatives, or colorants. Its purity and freedom from contaminations have been confirmed in tests conducted by an independent, accredited laboratory: J.S. Hamilton Poland.
original recipe
Many experienced nutrition experts have contributed to the development of the SmartMe dietary supplement. Their passion and expertise helped create dietary supplements guaranteed to meet the expectations of even the most demanding consumers, both men and women.
What you need to know
Recommended intake
Adults: 5 mL (1 teaspoon) a day
— after a meal
Find out the ingredients in SmartMe dietary supplement
Table of active ingredients
| SmartMe | In 5 mL | RI* |
| --- | --- | --- |
| Omega-3: alpha-linolenic acid in the form of ethyl ester | 2.4 g | |
| Omega-6: linoleic acid in the form of ethyl ester | 1 g | |
| Omega-9: oleic acid in the form of ethyl ester | 0.9 g | |
| Vitamin E, of which | 12 mg | 100% |
| tocotrienol | 9.5 mg | |
| tocopherol | 2.5 mg | |
| Vitamin A | 800 μg | 100% |
| Vitamin D | 25 μg | 500% |
Expert opinion
Ethyl esters for better skin
A diet rich in ingredients that positively affect the appearance of our skin and proper supplementation are the ideal combination for people who want to have better looking, healthy skin.
The main ingredients in the SmartMe dietary supplement are beneficial ethyl esters obtained from a mixture of evening primrose, linseed, hemp, and rose hip oils, as well as vitamins A, E, and D. Vitamin A helps your skin stay healthy, vitamin E protects cells against oxidative stress, and vitamin D additionally supports the immune system.
Paulina Ihnatowicz
A nutritionist specializing in clinical and sports nutrition; the author of the book "Masz to we krwi" [It's in your blood] with 10 years of experience, more than 1000 patients, and hundreds of trainings and presentations
paulina.ihnat
Frequently asked questions
Has the SmartMe dietary supplement been tested?
Can Health Labs Care supplements be taken while undergoing laser hair removal treatments?
Can I take other Health Labs Care supplements while taking the SmartMe dietary supplement?
What is the shelf life of the SmartMe dietary supplement?
Why should SmartMe be refrigerated after opening?
What is the 25-hydroxy vitamin D blood test recommended when taking NewMe PRO and SmartMe?
Can pregnant and breastfeeding women take the SmartMe dietary supplement?