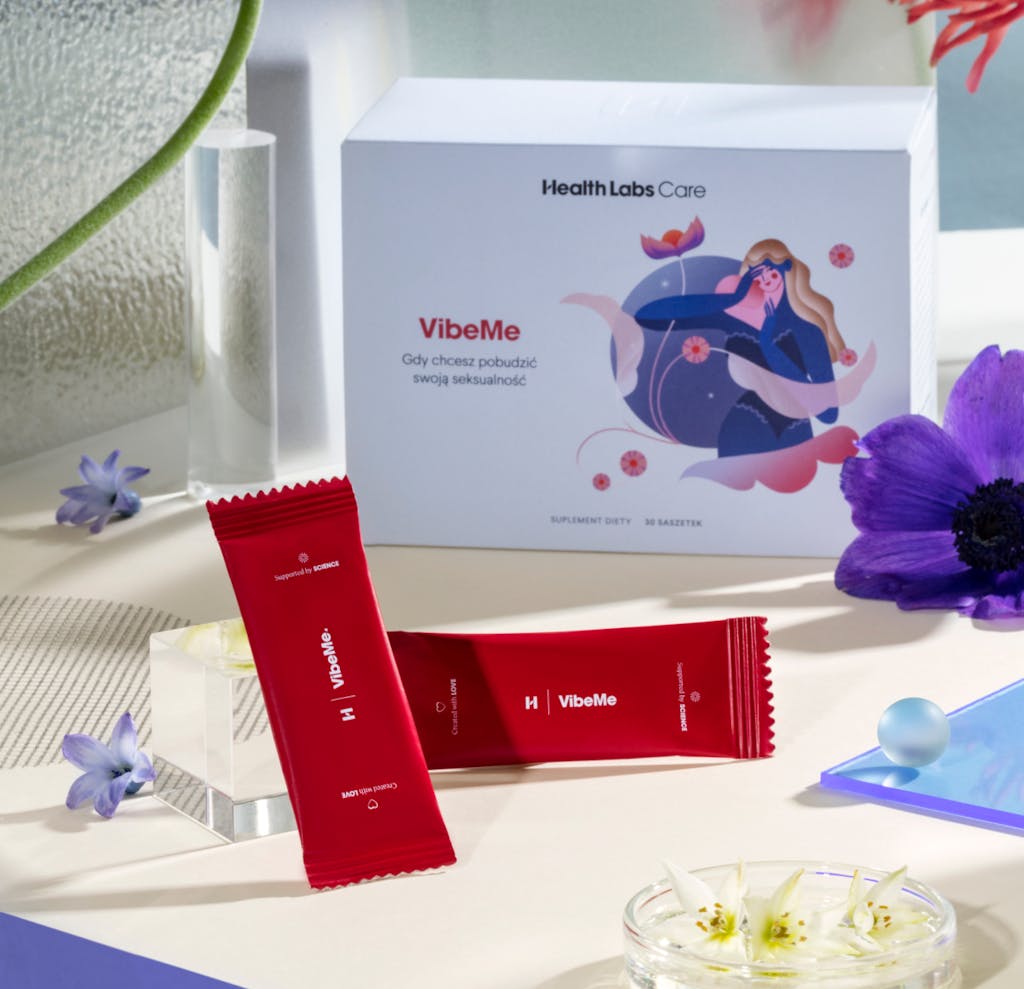 What makes the VibeMe dietary supplement special?
7 plant extracts
The VibeMe dietary supplement contains standardized plant extracts from Shatavari, Damiana leaves, Maca, and Muira puama, to name a few. They positively affect the hormonal system in women and contribute to optimal sexual health.
AAKG, including L‑arginine
AAKG ensures better blood flow and oxygen and nutrient distribution, dilates blood vessels, and helps maintain sexual function.
Muira puama extract
Muira puama extract is traditionally used in Brazil as an aphrodisiac. It helps maintain hormonal balance and stimulate libido in women. 
convenient sachets
The VibeMe dietary supplement comes in convenient sachets, which means you can always have it with you: in the office, on the go, on vacation. 
pure composition
​​W suplemencie diety VibeMe nie znajdziesz zbędnych wypełniaczy, konserwantów i barwników. Czysty skład pozbawiony zanieczyszczeń potwierdzają badania produktów przeprowadzone przez niezależne, akredytowane laboratorium J.S. Hamilton Poland.
original recipe
Many experienced nutrition experts have contributed to the development of the VibeMe dietary supplement. Their passion and expertise helped create supplements that meet the expectations of even the most demanding women.
What you need to know
Recommended intake
Adults: 1 sachet (4.7 g) a day
— dissolve in half a cup of water or another beverage
Expert opinion
Sexuality is about more than one thing
The VibeMe dietary supplement is dedicated to women who want to remain sexually active and stimulate their libido while leading a healthy lifestyle. The product contains extracts from Siberian ginseng, Shatavari, Damiana leaf, Muira puama, and Maca — plants renowned for their vitality- and energy-boosting properties. 
Paulina Ihnatowicz
A nutritionist specializing in clinical and sports nutrition; the author of the book "Masz to we krwi" [It's in your blood] with 10 years of experience, more than 1000 patients, and hundreds of trainings and presentations
paulina.ihnat
There are no miracles. Only science.
Korean red ginseng helps maintain sexual health.

Red ginseng extracts might be used as an alternative medicine in menopausal women to improve their sexual life.

Source: Effects of Korean red ginseng on sexual arousal in menopausal women: placebo-controlled, double-blind crossover clinical study https://pubmed.ncbi.nlm.nih.gov/20141583/

Maca helps improve sexual function.

Maca root may alleviate SSRI-induced sexual dysfunction in postmenopausal women.

Source: A double-blind placebo-controlled trial of maca root as treatment for antidepressant-induced sexual dysfunction in women https://pubmed.ncbi.nlm.nih.gov/25954318/

Shatavari supports the reproductive system in women

Shatavari may improve female reproductive health complications including hormonal imbalance, polycystic ovarian syndrome (PCOS), follicular growth and development, oocyte quality and infertility.

Source: Impact of stress on female reproductive health disorders: Possible beneficial effects of shatavari (Asparagus racemosus)
Find out the ingredients in VibeMe dietary supplement
Table of active ingredients
| VibeMe | In 1 sachet |
| --- | --- |
| Korean red ginseng extract | 15 mg |
| including ginsenosides | 1,5 mg |
| Siberian ginseng extract | 485 mg |
| Maca extract | 250 mg |
| including glucosinolates | 2,5 mg |
| Shatavari extract | 400 mg |
| including saponins | 60 mg |
| Damiana extract | 500 mg |
| including apigenin | 5 mg |
| Black pepper extract | 0,53 mg |
| including piperine | 0,5 mg |
| Muira puama extract | 200 mg |
| Arginine-alpha-ketoglutarate (AAKG) | 600 mg |
| including L‑arginine | 315 mg |
Frequently asked questions
Has the VibeMe dietary supplement been tested?
What does the VibeMe dietary supplement taste like?
Can I take the VibeMe dietary supplement if I am on birth control?
Can I take the VibeMe dietary supplement if I also take hormonal drugs, such as lutein?
If I decide to stop taking the VibeMe supplement, will it have a negative impact on my mood or sex drive?
What Health Labs Care products can be taken with the VibeMe supplement?
Can the herbal ingredients contained in the VibeMe dietary supplement cause photo-sensitivity?
Can I use the VibeMe dietary supplement if I am trying for a baby?
Can pregnant and breastfeeding women take the VibeMe dietary supplement?