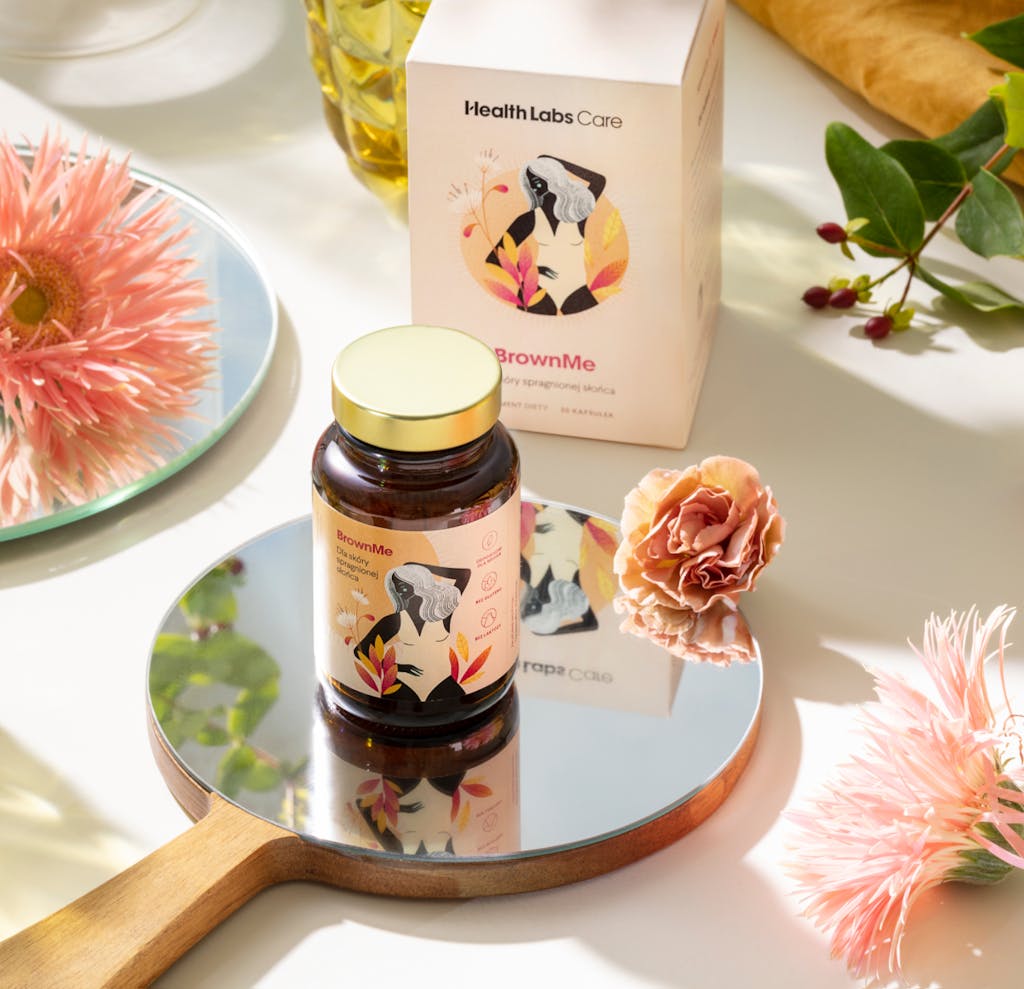 What makes the BrownMe dietary supplement special?
standardized plant extracts
Plant extracts contained in the BrownMe dietary supplement are standardized, so you can be sure each portion of the supplement contains the declared amount of active ingredients. The high concentration of ingredients is also evidenced by their drug extract ratio (DER).
comprehensive selection of ingredients
BrownMe is a versatile dietary supplement, rich in antioxidants which have been shown to positively affect the skin before, during, and after sunbathing.
pure composition
The BrownMe dietary supplement contains no unnecessary fillers, preservatives, or colorants. Its purity and freedom from contaminations have been confirmed in tests conducted by an independent, accredited laboratory: J.S. Hamilton Poland.
original recipe
Many experienced nutrition experts have contributed to the development of the BrownMe dietary supplement. Their passion and expertise helped create dietary supplements guaranteed to meet the expectations of even the most demanding consumers, both men and women.
What you need to know
Recommended intake
Expert opinion
Let us help you work on your beautiful tan
The BrownMe dietary supplement contains common marigold, Japanese pagoda tree, and broccoli extracts, enriched with algae, vitamins A and E, as well as copper, which takes part in the secretion of melanin (the main skin and hair pigment). To ensure top quality of the formula, we used the EVNol SupraBio™ full-spectrum vitamin E, which provides greater absorption of tocotrienols from orally administered supplements.
Paulina Ihnatowicz
A nutritionist specializing in clinical and sports nutrition; the author of the book "Masz to we krwi" [It's in your blood] with 10 years of experience, more than 1000 patients, and hundreds of trainings and presentations
paulina.ihnat
Find out the ingredients in BrownMe dietary supplement
Table of active ingredients
| BrownMe | In 1 capsule | RI* |
| --- | --- | --- |
| Algae | 100 mg | |
| providing astaxanthin | 5 mg | |
| Vitamin E, of which | 30 mg | 250% |
| tocotrienol | 24 mg | |
| tocopherol | 6 mg | |
| Common marigold extract, providing | 100 mg | |
| lutein | 20 mg | |
| zeaxanthin | 4 mg | |
| Broccoli extract | 50 mg | |
| providing sulforaphane | 0.2 mg | |
| Japanese pagoda tree extract | 26.32 mg | |
| providing quercetin | 25 mg | |
| Carrot extract | 24 mg | |
| providing vitamin A | 800 µg | 100% |
| Copper | 0.15 mg | 15% |
Frequently asked questions
Can the BrownMe dietary supplement replace the use of SPF products during tanning?
Has the BrownMe dietary supplement been tested?
Is the high content of antioxidants in the BrownMe dietary supplement safe?
When should I take the BrownMe dietary supplement — before, after, or with a meal?
Can I combine the BrownMe dietary supplement with other Health Labs Care products?
Can pregnant and breastfeeding women take the BrownMe dietary supplement?