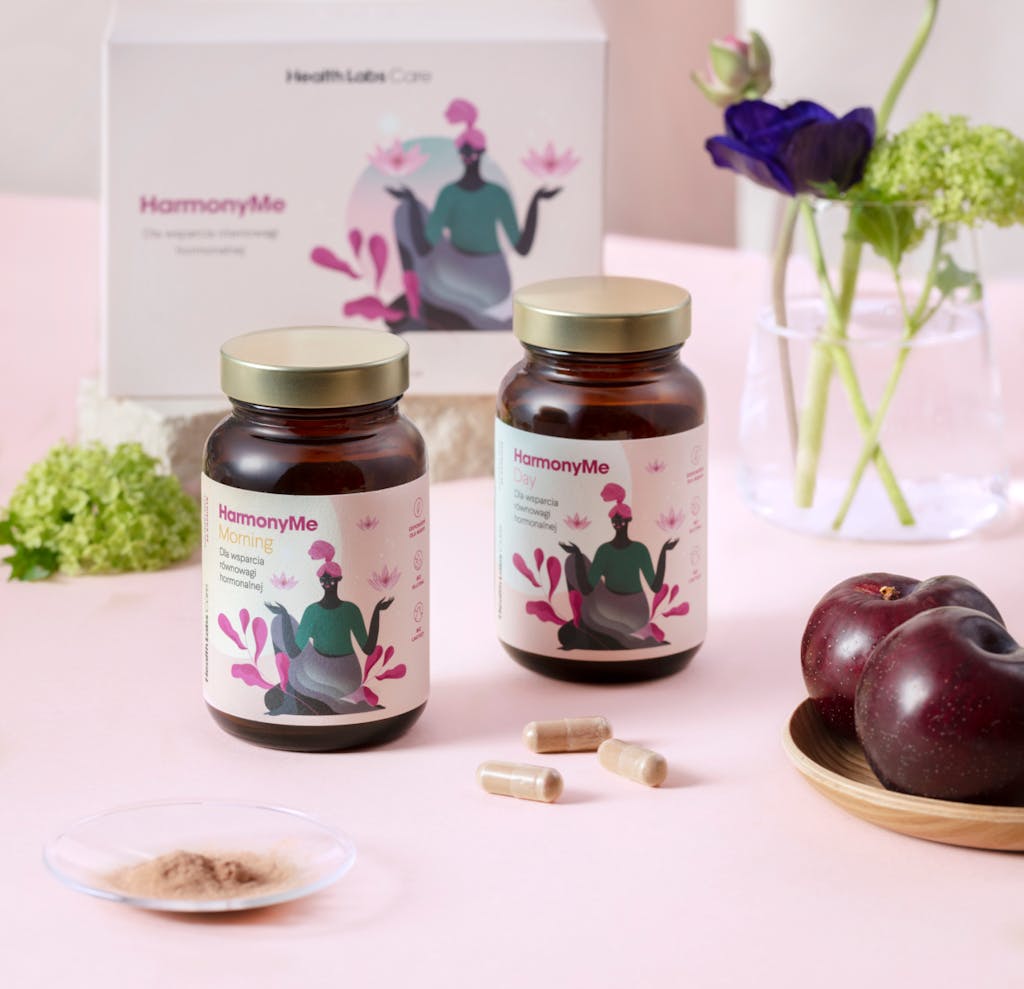 HarmonyMe
To support your hormonal balance
Help regulate hormonal balance, also when you experience symptoms of PMS, PCOS, endometriosis, and hyperandrogenism
Help keep your periods regular
Support your fertility and reproductive health
Suitable for vegans
120 capsules  — 30 days' supply
Free shipping on orders above 300 PLN
Ships in 24h
What makes the HarmonyMe dietary supplement special?
unique formula
The HarmonyMe dietary supplement is a rich combination of plant extracts from wild yam, Korean ginseng, and saw palmetto with berberine, NAC, indole-3-carbinol, minerals, and B vitamins, which acts on multiple levels and helps ensure hormonal balance in women.
ingredients that work synergistically
The HarmonyMe dietary supplement comes in two jars: Morning and Day. Capsules in each jar have a different composition to keep the ingredients working synergistically.
indole-3-carbinol
It is a powerful antioxidant that affects estrogen metabolism — it regulates estrogen function and contributes to the reduction of estrogen dominance. It also helps remove excess estrogens and androgens from the body.
original recipe
Many experienced nutrition experts have contributed to the development of the HarmonyMe dietary supplement. Their passion and expertise helped create supplements that meet the expectations of even the most demanding women.
pure composition confirmed by studies
The HarmonyMe dietary supplement contains no unnecessary fillers, preservatives, or colorants. Its purity and freedom from contaminations have been confirmed in tests conducted by an independent, accredited laboratory: J.S. Hamilton Poland.
What you need to know
Recommended intake
Adults: 2 capsules in the morning
— after a meal
Adults: 2 capsules during the day
— after a meal
Expert opinion
Stay in tune with your body
In my work, I meet many women who struggle with various types of hormonal disorders. Often, their problems stay unresolved for a very long time, which adversely affects their health and well-being. 
We have created the HarmonyMe dietary supplement to help women maintain hormonal balance, which is key to staying healthy and energetic. It can also improve your quality of life by alleviating painful and burdensome symptoms of PCOS, endometriosis, or PMS.
There are no miracles. Only science.
Korean ginseng can reduce DHEA levels in PCOS patients

Berberine is commonly used to treat PCOS in women

Berberine can contribute to the improvement of metabolic index, insulin level, and hyperandrogenemia, and it has effects on body composition and hyperlipidemia in women with PCOS.

Source: The Effect of Berberine on Reproduction and Metabolism in Women with Polycystic Ovary Syndrome: A Systematic Review and Meta-Analysis of Randomized Control Trials

NAC increases sensitivity to insulin

N-acetylcysteine improves sensitivity to insulin and contributes to a significant reduction of testosterone and androgen levels in women with polycystic ovary syndrome (PCOS).

Source: The effect of nutrient supplementation in the management of polycystic ovary syndrome-associated metabolic dysfunctions: A critical review
Find out the ingredients in HarmonyMe dietary supplement
Table of active ingredients
| HarmonyMe Morning | In 2 capsules | RI* |
| --- | --- | --- |
| Wild yam extract | 720 mg | |
| N-acetylcysteine (NAC) | 300 mg | |
| Korean red ginseng extract | 250 mg | |
| Indole-3-carbinol | 100 mg | |
| Vitamin B6 (pyridoxal 5′-phosphate) | 10 mg | 714 |
| Pantothenic acid | 0,9 mg | 15 |
| HarmonyMe Day | In 2 capsules | RI* |
| --- | --- | --- |
| Green tea extract | 500 mg | |
| including polyphenols | 490 mg | |
| including catechins | 400 mg | |
| including EGCG | 250 mg | |
| Berberine | 324 mg | |
| Saw palmetto extract | 240 mg | |
| Alpha-lipoic acid | 200 mg | |
| Zinc | 15 mg | 150 |
| Chromium | 100 µg | 250 |
Frequently asked questions
Has the HarmonyMe dietary supplement been tested?
Can children and teenagers also take the HarmonyMe dietary supplement?
Can I use the HarmonyMe dietary supplement if I also take medication for diabetes, insulin resistance, or antibiotics?
Can I combine the HarmonyMe dietary supplement with other single-ingredient herbal products, for example saw palmetto or ashwagandha?
Can I take the supplement if I am on birth control?
Can pregnant and breastfeeding women use the supplement?