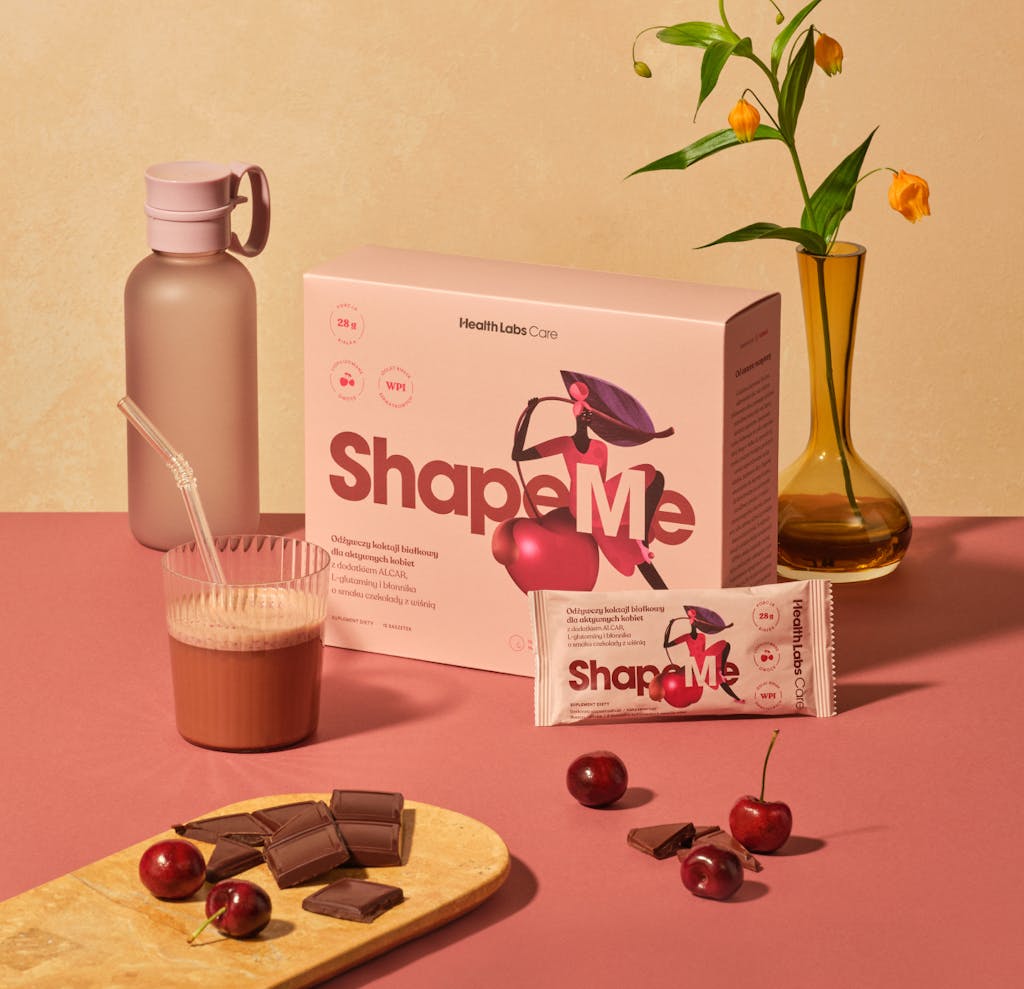 ShapeMe (package of 15 sachets)
Nutritious protein shake with chocolate cherry flavor
as much as 28 g of protein per portion
low in fat and sugar
active ingredients: ALCAR, L-glutamine, arabinogalactan
excellent solubility
freeze-dried cherry
141,75 PLN
Lowest price in the last 30 days: 141,75 PLN
15 sachets  — 15 days' supply
Free shipping on orders above 300 PLN
Ships in 24h
What makes the ShapeMe dietary supplement special?
High protein content
The ShapeMe dietary supplement contains as much as 28 g of protein in a single sachet and leaves you feeling full and satisfied. What is more, it is low in sugar and fat, providing just 136 kcal.
WPI with all amino acids
This top-quality whey protein isolate contains all amino acids, including the 9 essential amino acids, which play a crucial role in keeping the female body in shape.
Addition of ALCAR
This is the first dietary supplement in Poland containing whey protein isolate with acetyl-l-carnitine — a compound that promotes the transport of fatty acids to mitochondria, improves metabolism, and helps accelerate fat burning. 
Convenient sachets
The ShapeMe dietary supplement comes in convenient sachets, which means you can always have it with you: in the office, on the go, or on vacation. The product dissolves well even without a shaker, making the preparation of your delicious shake easy every time.
Care about the environment
Whey protein isolate comes from sustainably bred, grass-fed cows. It is manufactured under strict supply chain supervision ("farm to table"), which helps reduce its carbon footprint.
What you need to know
Recommended intake
Adults: 1 sachet a day (38g)
— mix with 200–250 mL of milk or water, shake or blend.
Nutritious protein shake for active women
The ShapeMe dietary supplement is dedicated to active women who want to stay in shape, and allows them to enjoy a healthy and nutritious snack that will help keep hunger at bay even during the busiest days. Protein isolate supplementation can not only eliminate any protein deficiencies in your diet — it is also a great choice after a workout, as this is when the demand for this nutrient increases. Ensuring the right amount of physical activity, getting enough sleep, and eating well helps keep your body in good shape and maintain healthy weight. 
Paulina Ihnatowicz
A nutritionist specializing in clinical and sports nutrition; the author of the book "Masz to we krwi" [It's in your blood] with 10 years of experience, more than 1000 patients, and hundreds of trainings and presentations
paulina.ihnat
When is the ShapeMe dietary supplement right for you?
you lead a busy life and want to enjoy a healthy and nutritious snack during the day;

you want to provide your body with quality protein;

you want to control your body weight as well as the amount of nutrients in your diet;

you exercise a lot, and you want to burn fat more quickly and improve your muscle strength;

you want to stay fit while still being able to enjoy a delicious shake;

you want to have more energy.
There are no miracles. Only science.
Find out the ingredients in ShapeMe dietary supplement
Table of active ingredients
| ShapeMe (energy value) | In 100 g / 38 g (1 sachet) |
| --- | --- |
| Energy value | 1510 kJ / 574 kJ |
| Calories | 357 kcal / 136 kcal |
| Fat | 1,2 g / 0,46 g |
| providing saturated fatty acids | 0,4 g / 0,15 g |
| Carbohydrates | 8,2 g / 3,12 g |
| providing sugar | 3,5 g / 1,33 g |
| Fibre | 7,5 g / 2,85 g |
| Protein | 74,5 g / 28 g |
| Salt | 1,1 g / 0,42 g |
| ShapeMe (active ingredients) | In 1 sachet (38 g) |
| --- | --- |
| Whey protein isolate (WPI) | 31,5 g |
| L-glutamine | 500 mg |
| Arabinogalactan | 1000 mg |
| Acetyl-L-carnitine (ALCAR) | 250 mg |
Frequently asked questions
Has the ShapeMe dietary supplement been tested?
Will I lose weight if I take the ShapeMe dietary supplement?
Can whey protein isolate increase my body mass?
What are the benefits of consuming whey protein isolate?
Does the ShapeMe dietary supplement provide all amino acids required for muscle growth?
Can I take the ShapeMe dietary supplement with hot meals, for example adding it to an omelet?
Can pregnant and breastfeeding women take the ShapeMe dietary supplement?
What is the minimum age for taking the ShapeMe dietary supplement?
What other Health Labs Care products can be taken with the ShapeMe dietary supplement?
Other flavours of ShapeMe