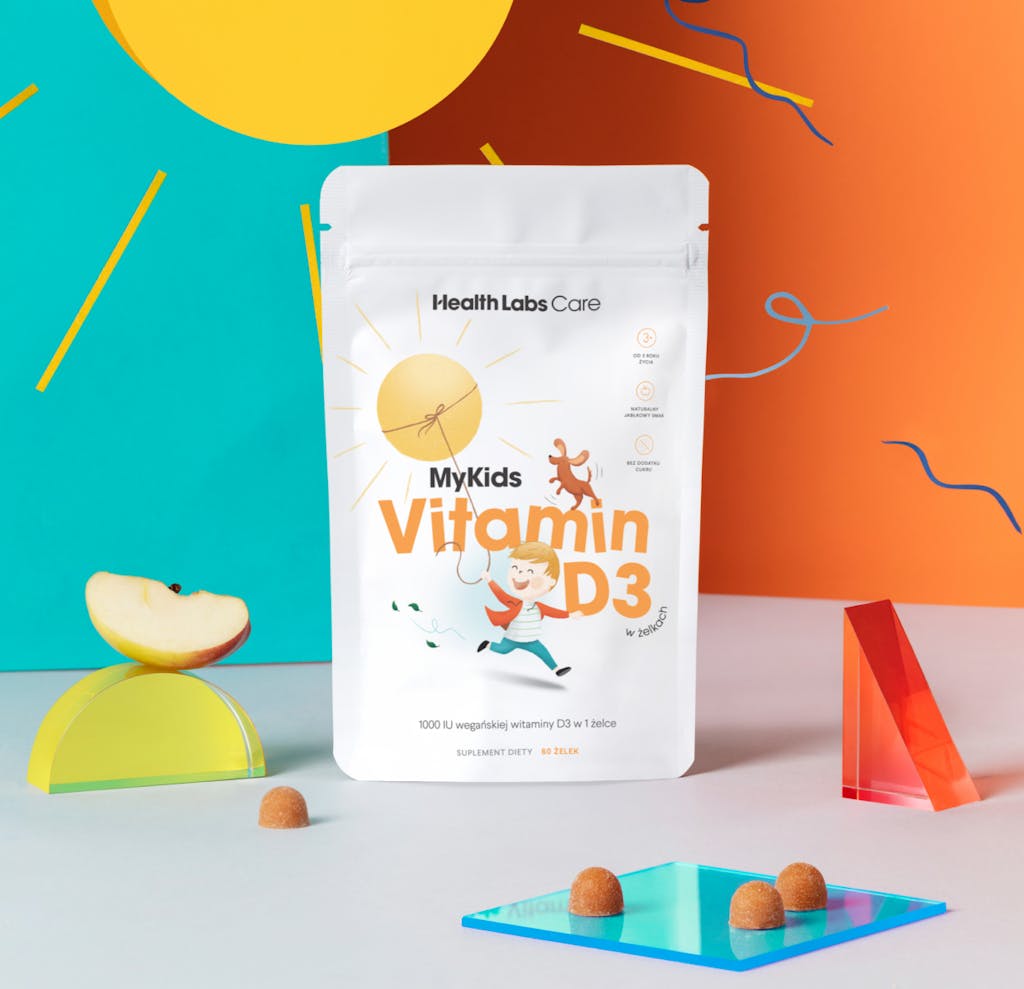 Dietary supplement
MyKids Vitamin D3 gummies
Vegan vitamin D gummies for children
as much as 1000 IU of vitamin D in 1 gummy
delicious apple flavor
no added sugar or gelatin
for children over 3
60 pcs  — 30 days' supply
Free shipping on orders above 300 PLN
Ships in 24h
What makes the MyKids Vitamin D3 gummies special?
just 1 gummy a day
One MyKids Vitamin D3 gummy contains 25 µg (500% RI*), equivalent to 1000 IU** of vitamin D — enough to cover the daily demand for vitamin D3 in children under 10.
*RI — Reference Intake
**IU — International Unit
delicious flavor with no added sugar
MyKids Vitamin D3 gummies contain juice and fruit pectin concentrates, with no added sugar or gelatin. No child will be able to resist these soft, apple-flavored gummies!
convenient form
MyKids Vitamin D3 gummies come in a zip-lock plastic bag, which allows for quick and convenient opening and closing of the package. This helps the gummies stay fresh and protects them against oxidation.
vegan formula
Vitamin D3 contained in the MyKids Vitamin D3 dietary supplement is obtained from algae. It is a perfect alternative to vitamin D from animal sources, such as lanolin. What is more, the MyKids Vitamin D3 dietary supplement does not contain gelatin or lactose, so the product is perfect for children on a vegan diet.
pure composition confirmed by studies
The MyKids Vitamin D3 gummies contain no unnecessary fillers, preservatives, colorants, heavy metals, or contaminations. This is confirmed by tests conducted in an independent, accredited laboratory: J.S. Hamilton Poland.
Recommended intake
MyKids Vitamin D3 gummies
Children over 3
— 1 gummy a day
Children over 10
— 2 gummies a day
Do not exceed the recommended daily intake. A balanced diet and a healthy lifestyle are important for the functioning of the human body. Dietary supplements are not a substitute for a varied diet. Contains naturally occurring sugars.
Opinia eksperta
Vitamin D is never out of season.
Vitamin D is crucial for the development of bones and the immune system in children. Unfortunately, our body cannot produce it on its own. Vitamin D is mainly synthesized thanks to solar rays reaching our skin, or supplied with food, though only in small amounts. That is why it may be necessary to take vitamin D supplements all year round, especially in the case of children.
Paulina Ihnatowicz
A nutritionist specializing in clinical and sports nutrition; the author of the book "Masz to we krwi" [It's in your blood] with 10 years of experience, more than 1000 patients, and hundreds of trainings and presentations
paulina.ihnat
When should you give the MyKids Vitamin D3 gummies to your child?
when they suffer from vitamin D deficiency;

they are physically active, exercise a lot, and their muscles and bones need support to develop properly;

their immunity is impaired or they are prone to infections;

their diet does not contain meat, fish, dairy or eggs, which are all sources of vitamin D.
There are no miracles. Only science.
Find out the ingredient in MyKids Vitamin D3 gummies dietary supplement
Table of active ingredients
| MyKids Vitamin D3 w żelkach | | RI* |
| --- | --- | --- |
| 1 gummy | 25 µg (1000 IU**) | 500 |
| 2 gummies | 50 µg (2000 IU**) | 1000 |
Discover other dietary supplements for children
Najczęściej zadawane pytania
Have the MyKids Vitamin D3 gummies been tested?
Does my child have to undergo any tests before they start taking the MyKids Vitamin D3 gummies?
What is the 25-hydroxy vitamin D blood test, recommended when taking MyKids Vitamin D3 gummies?
Does demand for vitamin D change with age?
Should children also take vitamin D in summer and spring?
If my child misses their daily dose of the MyKids Vitamin dietary supplement, should they receive a double dose the next day?