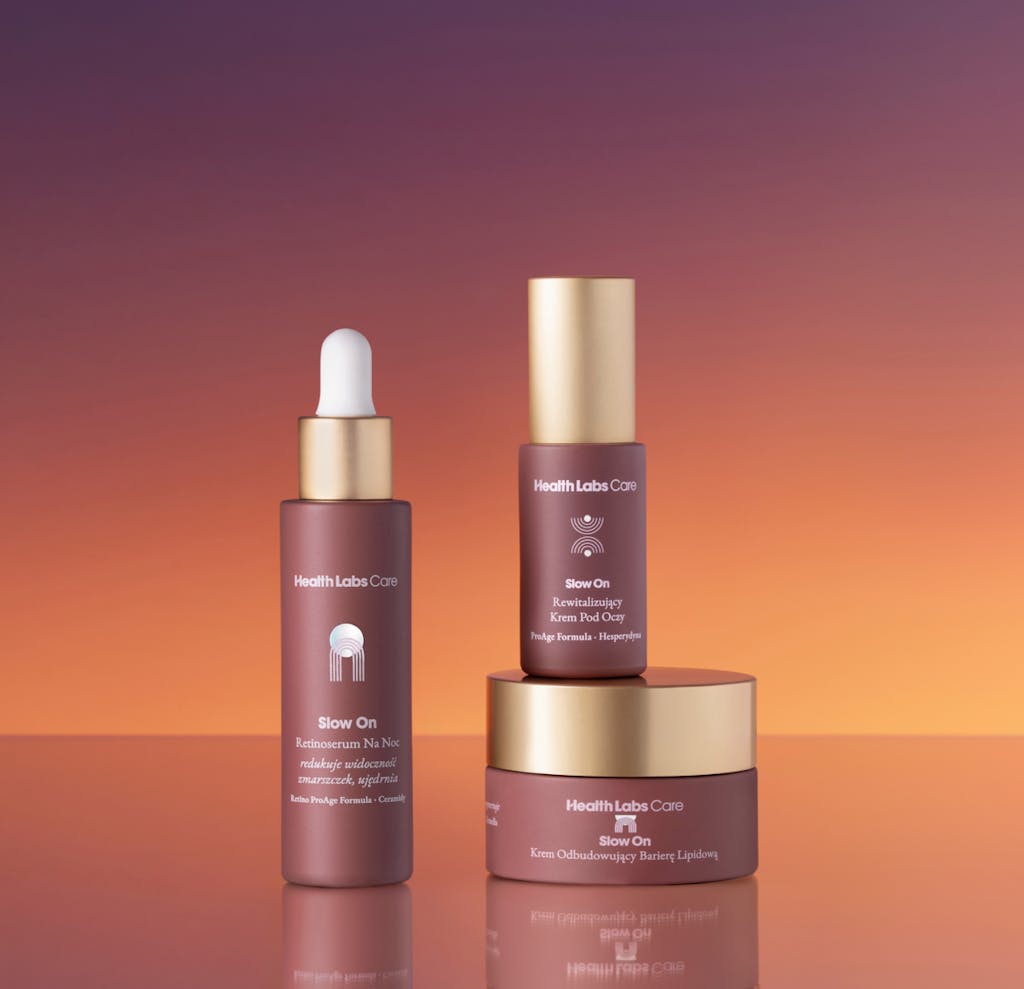 My Retino Care
Advanced anti-aging skin care products with retinoids
Save you save 88 PLN! by ordering the set!
Free shipping on orders above 300 PLN
Ships in 24h
Learn more about the My Retino Care set
Scientifically proven results*
Praised by women
100% think the My Retino Care set moisturizes the skin
100% confirm that the products in the My Retino Care set regenerate the epidermis
97% claim the Slow On Lipid Barrier Renewal Cream revitalizes the skin
90% say the Slow On Revitalizing Eye Cream makes the skin more supple
67% think that using the Slow On Revitalizing Eye Cream reduces the prominence of dark circles
53% believe the Slow On Night Retinoserum makes fine lines and wrinkles less prominent and leaves the skin looking smoother
*Survey conducted in a group of 30 women in an independent research facility.
Choose the My Retino Care set if your skin
has wrinkles and lines you would rather smooth out — also in the periorbital area

shows signs of fatigue: dark circles and eye bags

has an impaired lipid barrier that needs to be restored

is no longer firm and supple
Expert opinion
Effective and safe retinoid treatment 
Retinoids are an absolute must-have in anti-aging skin care. They stimulate collagen and elastin synthesis, even out skin tone, and support epidermal regeneration processes. The Slow On Night Retinoserum contains Retinyl Retinoate — an innovative retinol derivative encapsulated in liposomes. It is a stable and more potent anti-aging agent than retinol. The serum formula also contains peptides and ceramides. In our daily skin care, we should not forget about the skin around the eyes, which is thin, delicate, and has fewer sebaceous glands, so it ages more quickly.
Alicja Śliwowska, Ph.D.
She has a Ph.D. in chemical sciences, MA is cosmetology, and is a certified nutritionist. She is the author of numerous scientific publications, co-author of the cosmetic product patent, and one of the authors of Health Labs Care beauty product formulas.
dr_scura
Frequently asked questions
What should my skincare routine with the Health Labs Care products look like?
What skin type is the My Retino Care set dedicated to?
When should I use the My Retino Care set to achieve the best results: in the morning or in the evening?
Are the products included in the My Retino Care set fragrance-free?
Can pregnant and breastfeeding women use the My Retino Care set?
Do I have to use an SPF product if I am already using the My Retino Care set?
Can I apply the Revitalizing Eye Cream also on the upper eyelid?