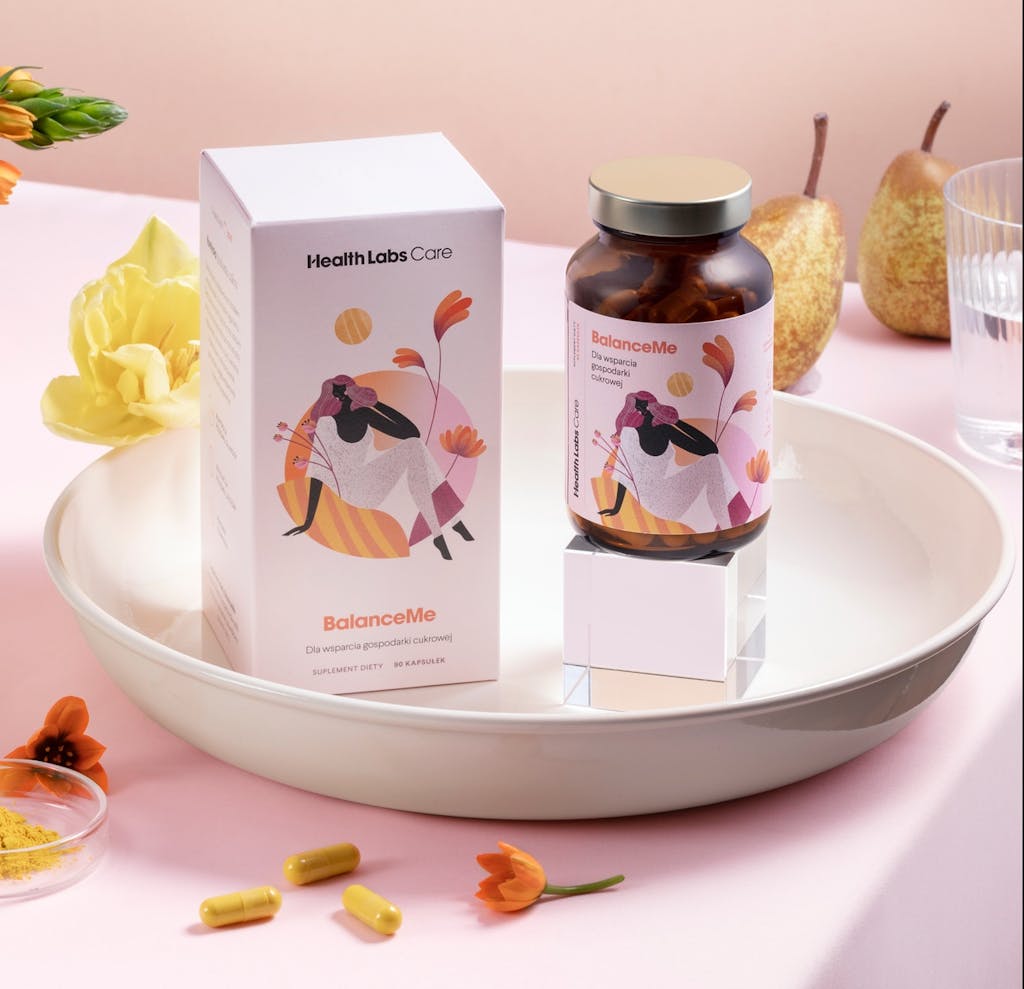 BalanceMe
Help regulate your blood sugar
Help maintain proper blood levels of insulin and lipids 
Reduce the symptoms of insulin resistance and metabolic syndrome
Keep a healthy blood glucose level
Boost your insulin sensitivity
Suitable for vegans
90 capsules  — 30 days' supply
Free shipping on orders above 300 PLN
Ships in 24h
What makes the BalanceMe dietary supplement special?
first on the Polish market
BalanceMe is the first dietary supplement in Poland that contains as many as four ingredients that help regulate sugar balance: Indian barberry root and true cinnamon tree bark extracts, myo-inositol, and alpha-lipoic acid.
comprehensive formula
The simple, yet comprehensive formula of the BalanceMe dietary supplement relies on synergies between the ingredients, and at the same time allows you to limit the intake of single-ingredient products. 
pure composition confirmed by studies
The BalanceMe dietary supplement contains no unnecessary fillers, preservatives, or colorants. Its purity and freedom from contaminations have been confirmed in tests conducted by an independent, accredited laboratory: J.S. Hamilton Poland.
original recipe
Many experienced nutrition experts have contributed to the development of the BalanceMe dietary supplement. Their passion and expertise helped create dietary supplements guaranteed to meet the expectations of even the most demanding women.
What you need to know
Recommended intake
Adults: 1 capsule 3 times a day
— during or after a meal
Expert opinion
Insulin resistance is a disorder you can overcome
The BalanceMe dietary supplement is the perfect ally of people who want to restore their insulin sensitivity and thus combat insulin resistance and prevent the development of type 2 diabetes. As BalanceMe acts on multiple levels, by supporting the action of insulin, making insulin receptors more sensitive, and regulating glucose metabolism, it is a great choice for those who struggle with high blood sugar.
Paulina Ihnatowicz
A nutritionist specializing in clinical and sports nutrition; the author of the book "Masz to we krwi" [It's in your blood] with 10 years of experience, more than 1000 patients, and hundreds of trainings and presentations
paulina.ihnat
There are no miracles. Only science.
Alpha-lipoic acid increases insulin sensitivity

ALA-induced improvement of insulin sensitivity is mediated by the activation of AMPK and reduced triglyceride accumulation in skeletal muscles.

Source: Alpha-lipoic acid increases insulin sensitivity by activating AMPK in skeletal muscle https://pubmed.ncbi.nlm.nih.gov/15913551/ 

Berberine regulates blood glucose and lipid levels

The application of berberine in patients with metabolic syndrome can effectively regulate blood glucose and blood lipid of patients, alleviate insulin resistance and reduce the level of inflammatory response in the body.

Source: Effects of berberine on glucose-lipid metabolism, inflammatory factors and insulin resistance in patients with metabolic syndrome

Myo-inositol supports metabolic syndrome treatment

Myo-inositol might be considered one of the insulin-sensitizing substances in the treatment of metabolic syndrome.

Source: One-year effects of myo-inositol supplementation in postmenopausal women with metabolic syndrome
Find out the ingredients in BalanceMe dietary supplement
Table of active ingredients
| BalanceMe | In 3 capsules |
| --- | --- |
| Indian barberry extract | 780 mg |
| including berberine | 690 mg |
| Cinnamon tree extract | 100 mg |
| Alpha-lipoic acid | 300 mg |
| Myo-inositol | 400 mg |
Frequently asked questions
Has the BalanceMe dietary supplement been tested?
Can I use the BalanceMe dietary supplement if I suffer from type 1 diabetes or take antidiabetic drugs?
What other Health Labs Care products can be used with the BalanceMe supplement?
Can pregnant and breastfeeding women take the BalanceMe dietary supplement?