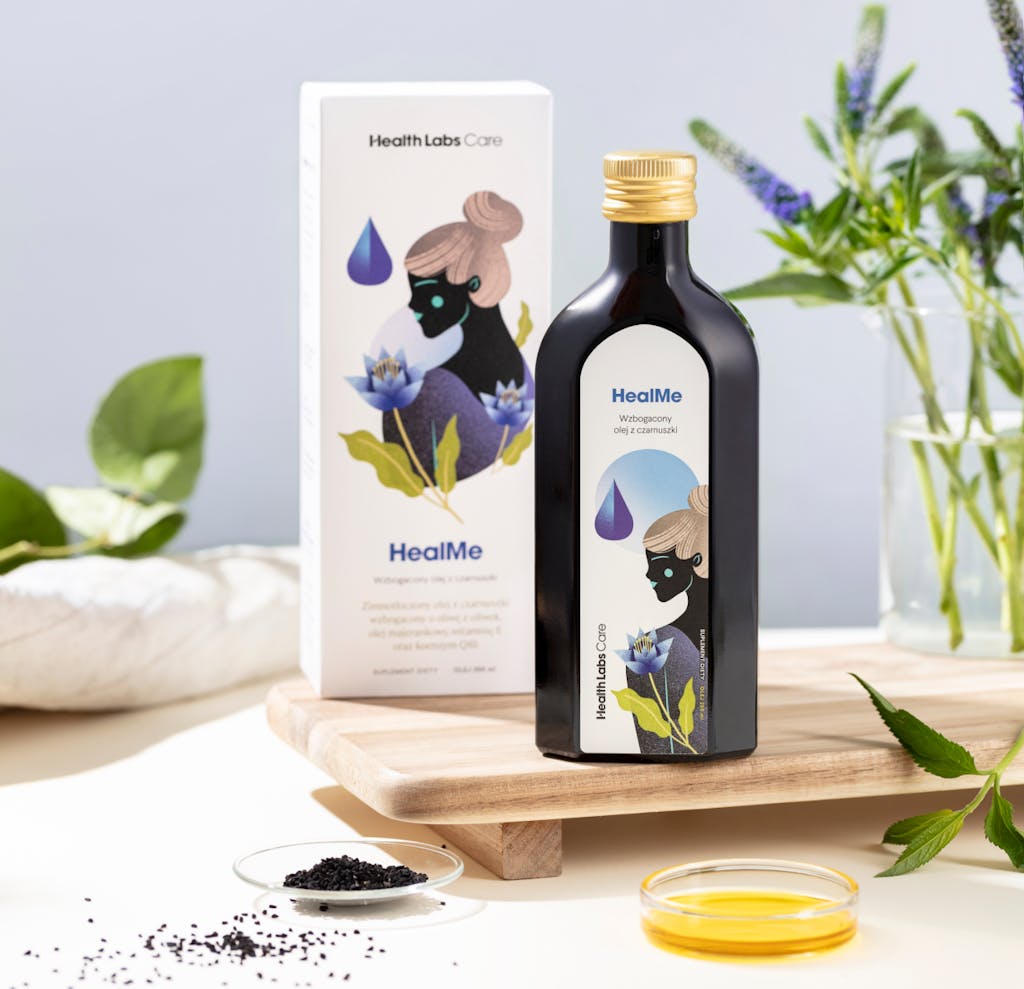 What makes the HealMe dietary supplement special?
EVNol SupraBio™ certificate
The HealMe dietary supplement is made using the EVNol SupraBio™ system which helps ensure higher absorption of vitamin E (tocotrienols) from orally administered supplements.
pure composition confirmed by studies
The HealMe dietary supplement contains no unnecessary fillers, preservatives, colorants, or contaminations. This is confirmed by tests conducted in an independent, accredited laboratory: J.S. Hamilton Poland.
simple manufacturing technology
Black seed oil, the main ingredient of the HealMe dietary supplement, is cold-pressed at temperature below 30°C and undergoes sedimentation, which helps keep its natural properties, as well as preserve its taste and aroma.
original recipe
Many experienced nutrition experts have contributed to the development of the HealMe dietary supplement. Their passion and expertise helped create dietary supplements guaranteed to meet the expectations of even the most demanding consumers, both men and women.
What you need to know
Recommended intake
Adults: 10 mL (2 teaspoons) a day
Expert opinion
A combination of vital ingredients
The Heal Me dietary supplement recipe has been designed to comprehensively support your body. It is a combination of cold-pressed black seed oil, marjoram oil (to help you calm down and soothe your nerves), olive oil, coenzyme Q10, and full-spectrum vitamin E to help your body combat oxidative stress. It has a distinctive herbal flavor and aroma.
Paulina Ihnatowicz
A nutritionist specializing in clinical and sports nutrition; the author of the book "Masz to we krwi" [It's in your blood] with 10 years of experience, more than 1000 patients, and hundreds of trainings and presentations
paulina.ihnat
Find out the ingredients in HealMe dietary supplement
Table of active ingredients
| HealMe | In 10 mL | RI* |
| --- | --- | --- |
| Black seed oil | 8200 mg | |
| Olive oil | 960 mg | |
| Vitamin E, of which | 16 mg | 133% |
| tocotrienol | 12.8 mg | |
| tocopherol | 3.2 mg | |
| Coenzyme Q10 (ubiquinone) | 10 mg | |
| Marjoram oil | 5 mg | |
Frequently asked questions
Has the HealMe dietary supplement been tested?
Is burping normal after taking the HealMe oil?
Can I take the HealMe dietary supplement with other Health Labs Care products?
Do I have to store the HealMe dietary supplement in the fridge?
When should I take the HealMe dietary supplement — before, after, or with a meal?
Can pregnant and breastfeeding women take the HealMe dietary supplement?