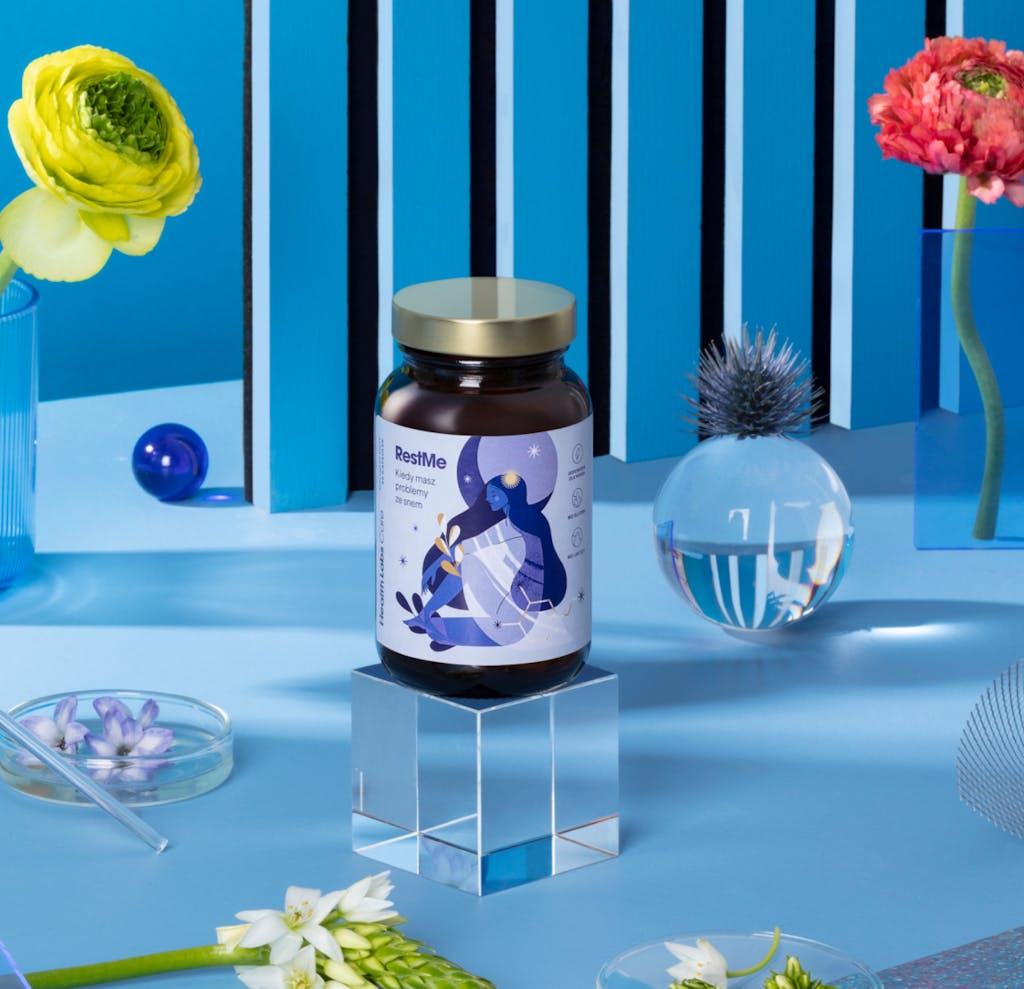 Dietary supplement
RestMe
When you have trouble sleeping
feel calmer and more relaxed
combat fatigue and exhaustion
enjoy a good night's sleep
restore your strength and balance while you sleep
Suitable for vegans
60 capsules  — 30 days' supply
Free shipping on orders above 300 PLN
Ships in 24h
What makes the RestMe dietary supplement special?
simple composition
The RestMe dietary supplement contains extracts from plants that positively affect sleep quality (i.e. how well your body recovers during deep and restful sleep).
pure composition confirmed by studies
The RestMe dietary supplement contains no unnecessary fillers, preservatives, or colorants. Its purity and freedom from contaminations and heavy metals have been confirmed in tests conducted by an independent, accredited laboratory: J.S. Hamilton Poland.
ingredients that work synergistically
The formula takes into account the synergistic action of the ingredients, which means they are better absorbed in the body (e.g. thanks to the combination of purple passionflower with hops and valerian, and magnesium citrate with melatonin).
standardized extracts
Extracts used in the RestMe supplement have a standardized active ingredient content. Their DER (Drug Extract Ratio) is also provided.
original recipe
Many experienced nutrition experts have contributed to the development of RestMe. Their passion and expertise helped create dietary supplements guaranteed to meet the expectations of even the most demanding consumers, both men and women.
What you need to know
Recommended intake
2 capsules a day
— in the evening
Do not exceed the recommended daily intake. Balanced diet and a healthy lifestyle are important for the functioning of the human body. Dietary supplements cannot be used as a substitute (replacement) for a varied diet.
Find out the ingredients in RestMe dietary supplement
Table of active ingredients
| RestMe | In 2 capsules | RI* |
| --- | --- | --- |
| Valerian extract | 300 mg | |
| Purple passionflower extract | 100 mg | |
| Ashwagandha extract | 100 mg | |
| providing withanolides | 7 mg | |
| Common hop extract | 50 mg | |
| Magnesium | 56.26 mg | 15% |
| Glycine | 200 mg | |
| Taurine | 200 mg | |
| Green tea extract | 51 mg | |
| providing L‑theanine | 50 mg | |
| Vitamin B6 (pyridoxal 5′-phosphate) | 9 mg | 643% |
| Melatonin | 0.5 mg | |
Frequently asked questions
Has the RestMe dietary supplement been tested?
Can I take the RestMe dietary supplement with other Health Labs supplements?
How long can I take RestMe?
Can pregnant and breastfeeding women take the RestMe dietary supplement?