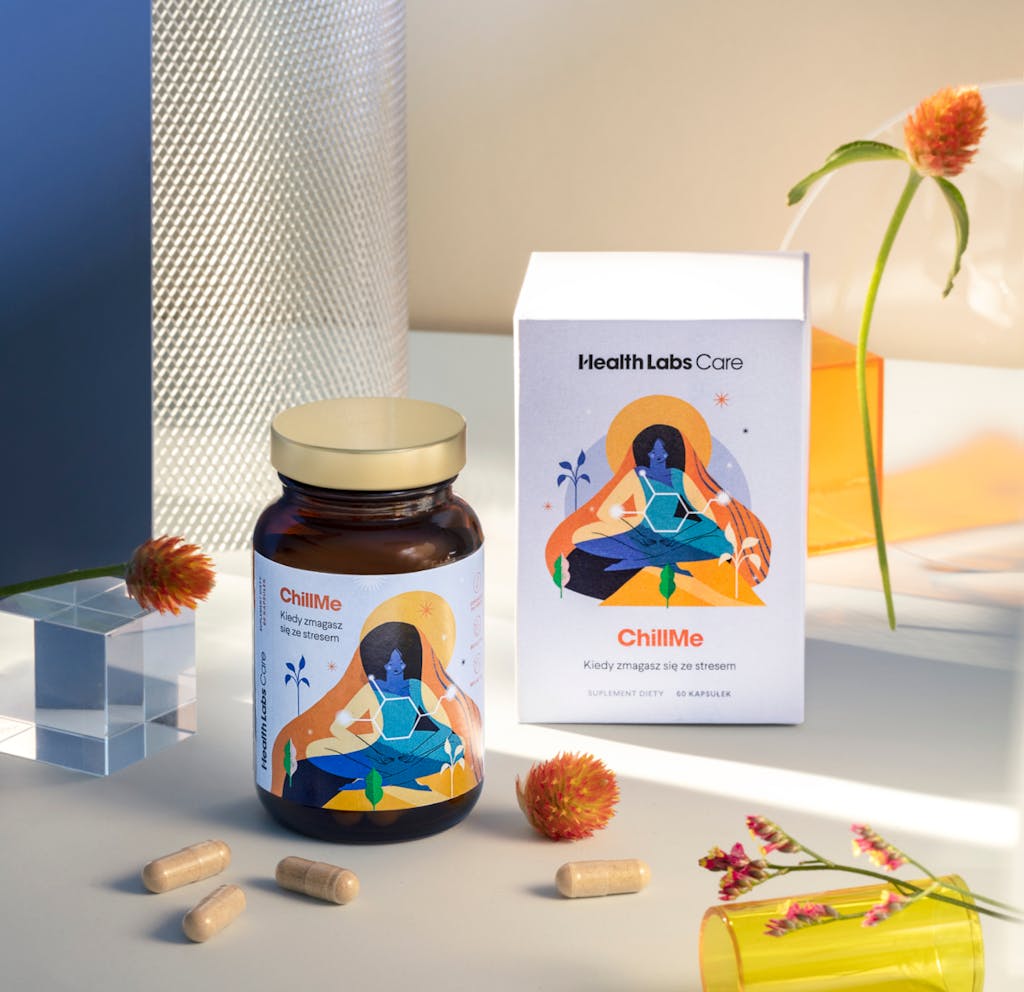 ChillMe
When you are struggling with stress
improve stress resistance
ease tension and alleviate anxiety
maintain optimal cognitive performance
Suitable for vegans
89,00 PLN
Lowest price in the last 30 days: 89,00 PLN
60 capsules — 30 days' supply
Free shipping on orders above 300 PLN
Ships in 24h
What makes the ChillMe dietary supplement special?
synergistic combination of ingredients
The ChillMe dietary supplement combines natural components that work in an optimum way (adaptogens and EGCG). This combination increases the product's effectiveness, and affects various mechanisms responsible for mood and relaxation.
pure composition confirmed by studies
The ChillMe dietary supplement contains no unnecessary fillers, preservatives, or colorants. Its purity and freedom from contaminations have been confirmed in tests conducted by an independent, accredited laboratory: J.S. Hamilton Poland.
mood-regulating adaptogens
Adaptogens (e.g. Ashwagandha) help the body combat stress, calm down, and relax.
nootropic ingredients
The content of nootropics positively affects brain function and neurotransmitter balance, and demonstrates neuroprotective action. Since they easily cross the blood-brain barrier, they can work in the central nervous system.
standardized plant extracts
Plant extracts in the ChillMe dietary supplement are standardized, so you can be sure each portion of the supplement contains at least the indicated amount of active ingredients.
original recipe
Many experienced nutrition experts have contributed to the development of the ChillMe dietary supplement. Their passion and expertise helped create dietary supplements guaranteed to meet the expectations of even the most demanding consumers, both men and women.
What you need to know
Recommended intake
When is the ChillMe dietary supplement right for you?
You are looking for a natural supplement to help you relax and feel less tense.

You have a stressful job and need to calm down and unwind.

You have a busy time at work or school and want to boost your stress resistance.

You are always in a rush, under constant time pressure.

You are exhausted and irritated.
Find out the ingredients in ChillMe dietary supplement
Table of active ingredients
| ChillMe | In 2 capsules |
| --- | --- |
| Holy basil extract | 500 mg |
| providing ursolic acid | 17.5 mg |
| Green tea extract | 500 mg |
| providing polyphenols | 490 mg |
| of which catechins | 350 mg |
| of which EGCG | 275 mg |
| Green tea extract | 204 mg |
| providing L‑theanine | 200 mg |
| Ashwagandha extract | 142 mg |
| providing withanolides | 10 mg |
Frequently asked questions
Has the ChillMe dietary supplement been tested?
Can the ChillMe dietary supplement make me drowsy and numb?
How long will it take before I notice or experience the effects of taking the ChillMe dietary supplement?
How long can I take the ChillMe dietary supplement?
Can I drink coffee if I take ChillMe?
Can I combine the ChillMe dietary supplement with other products containing adaptogens?
Is the ChillMe dietary supplement addictive?
Can I use ChillMe in the evening to improve my sleep?
Can I take ChillMe with other Health Labs Care products?
Can pregnant and breastfeeding women take the ChillMe dietary supplement?