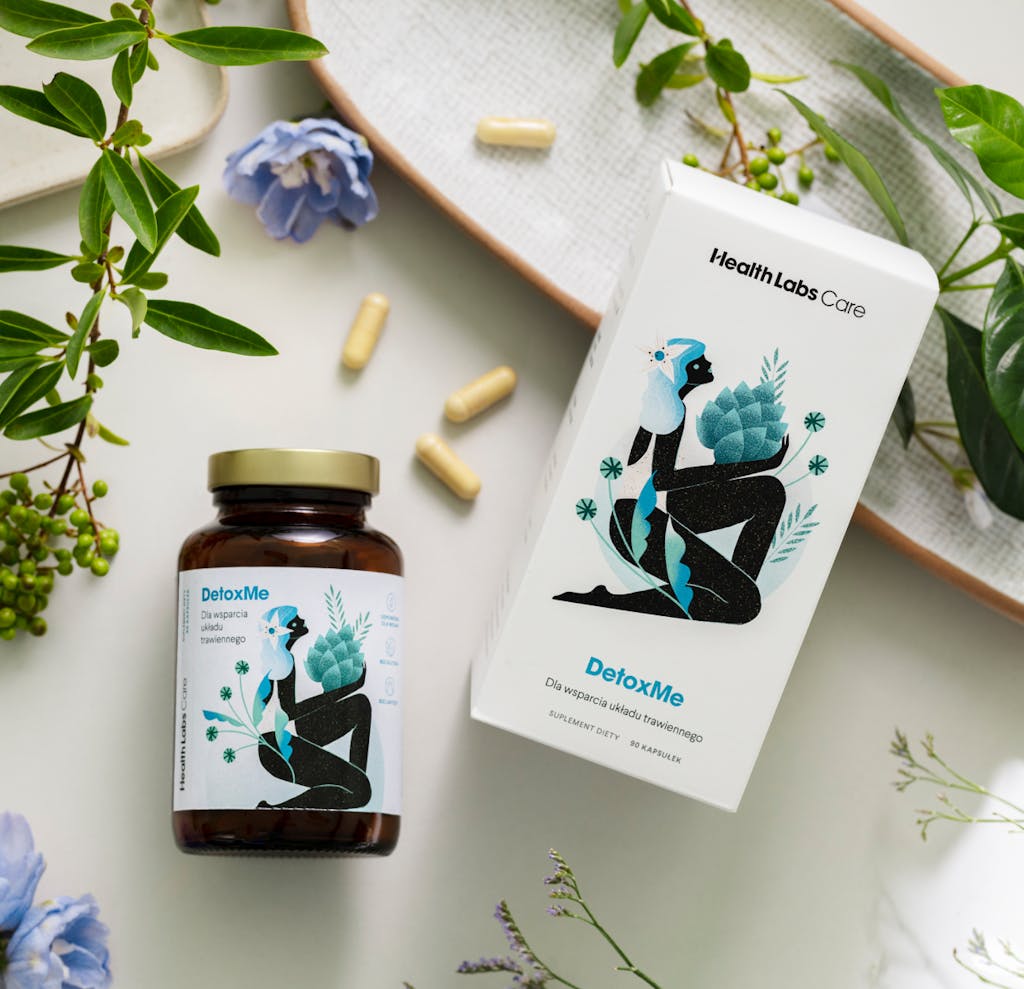 DetoxMe
To support your digestive system
help your body get rid of toxins
boost your metabolism
say goodbye to gastric problems
Suitable for vegans
90 capsules  — 30 days' supply
Free shipping on orders above 300 PLN
Ships in 24h
Find out the ingredients in DetoxMe dietary supplement
Table of active ingredients
| DetoxMe | In 3 capsules | RI* |
| --- | --- | --- |
| Coriander extract | 360 mg | |
| Chlorella vulgaris | 225 mg | |
| Thyme extract | 210 mg | |
| Milk thistle extract | 150 mg | |
| providing silymarin | 105 mg | |
| Artichoke extract | 150 mg | |
| providing cynarine | 7.5 mg | |
| Rose hip extract | 106.7 mg | |
| providing vitamin C | 80 mg | 100% |
| Curcugen™ turmeric extract | 80 mg | |
| providing curcuminoids | 40 mg | |
| Broccoli extract | 60 mg | |
| providing sulforaphane | 0.24 mg | |
| Methylsulfonylmethane (MSM) | 225 mg | |
| N‑acetylcysteine (NAC) | 150 mg | |
| L-cysteine | 150 mg | |
| L-methionine | 150 mg | |
| Alpha‑lipoic acid | 75 mg | |
| Selenium | 55 µg | 100% |
| Black pepper extract | 3.3 mg | |
| providing piperine | 3 mg | |
What you need to know
Recommended intake
3 capsules a day
— after a meal
What makes the DetoxMe dietary supplement special?
ingredients that work synergistically
The formula takes into account the synergistic action of the ingredients, which means they are better absorbed in the body (for example, black peppercorns increase the availability of curcumin).
NAC formula
N‑acetylcysteine (NAC) is a broad‑spectrum substance. It is a powerful antioxidant and a glutathione precursor.
pure composition confirmed by studies
The DetoxMe dietary supplement contains no unnecessary fillers, preservatives, colorants, or contaminations. This is confirmed by tests conducted in an independent, accredited laboratory: J.S. Hamilton Poland.
high absorbability
The DetoxMe dietary supplement contains highly absorbable ingredients in their biologically active forms to support liver function.
original recipe
Many experienced nutrition experts have contributed to the development of the DetoxMe dietary supplement. Their passion and expertise helped create dietary supplements guaranteed to meet the expectations of even the most demanding consumers, both men and women.
Frequently asked questions
Has the DetoxMe dietary supplement been tested?
Can I combine the DetoxMe dietary supplement with other herbal dietary supplements, such as SlimMe, RestMe, or BrownMe?
Should I take the recommended 3 capsules of the DetoxMe dietary supplement at once or separately?
When should I take the DetoxMe dietary supplement — before, after, or with a meal?
Can pregnant and breastfeeding women take the DetoxMe dietary supplement?